Sarina: "Good Eatz," you're wearing it. (Dante is wearing a t-shirt with the logo.) What does it mean?
Dont'e Deayon: So for starters, I started Good Eatz when I was in college at Boise State. It's progressed now. I've set it up as a nonprofit organization and a lifestyle brand and a C Corp. That way I still have the business side. We're doing different things, there's people who are involved with it that I either grew up with or play professional football now. (We are) able to touch different cities rather than just me wanting to do what I want to do which is give back and touch my community. Now, we have a platform to go reach different cities.
Sarina: Where did the name Good Eatz come from?
Dont'e Deayon: Football players, when we're on the field, we always say 'We eating.' We're out there getting it. So it just really started from there. I was on the field one day… 'Oh, that's good eats!'
Sarina: You're a smaller football player. How do you use your size to an advantage, especially being a defensive back?
Dont'e Deayon: Really harping in on the details of the game and the position. Not only knowing the things that I need to get done as a corner, but the grand scheme of things. What is my safety doing? What is my linebacker doing? What does the Dline do? Do I have help here? Just knowing the ins and outs mentally helps me take it to the next level. And then when it comes to the physical part, you just got to be a dog and you got to go get it.
Sarina: When I walk into the locker room, make a right, there you are with all of the defensive backs. The loudest in the locker room. Fill in the blank, "A defensive back is…"
Dont'e Deayon: "Woo!!" We're going to leave it at "Woo!" because there's a million things that could go in there.
Dont'e Deayon: It's natural. It's the confidence that comes with playing that position and if you ain't got confidence in yourself when you're playing that position then you can't succeed. I think we just carry it as well off the field. It's still a lot of humbleness, but then they are very excited and turned up people.
Sarina: I don't think I've ever seen you not smiling. Why are you always smiling?
Dont'e Deayon: It comes from where I've been before this point. Even as I went through a lot of things growing up, I was always smiling, always upbeat. I know the other side of things, so I just try to take the joy day-in and day-out. And then if I make somebody else smile, and make other people happy, it's a win.
Sarina: What's your pet-peeve then?
Dont'e Deayon: Blatant lies. Especially when I already know the truth. If you lie straight to me, that just grinds me the wrong way.
Sarina: Where were you this time last year?
Dont'e Deayon: Oh, this time last year I was in New York playing ball for the Giants. In the New Jersey area.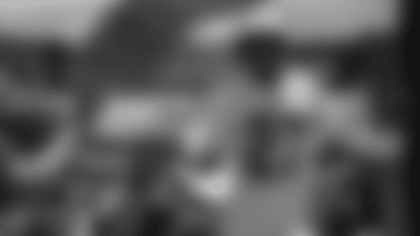 Sarina: How did you get from there? Because now you're here with a full preseason. I'm sure that must make such difference, being with the Rams.
Dont'e Deayon: Yeah, definitely. Just being able to go from the transition of the new defense, new teammates, new head coach, new style of being. It's amazing, though, because it's almost like night and day for me. Being from California, then going to New York, meeting different people, different style, then coming back to being older now in this situation has just been amazing. And really being able to grow and learn, and learn from All-Pros, and Pro Bowlers, and soak up all that game, it's really been good.
Sarina: As I'm smelling this food in the back right now, I get a sense it's the recipe of the Pro Bowlers and having a coaching staff like Wade (Phillips) and Aubrey (Pleasant) and coach E (Ejiro Evero), that kind of creates the stew for the season.
Dont'e Deayon: Yeah definitely. The makeup of dude's character that they have in here, the certain type of guys, I feel like a lot of the dudes that's in the locker room can relate to each other, which is big, because sometimes people don't get along well. Whether you're teammates or not. But now, you can really relate with dudes, you feel dudes' stories and what they've been through, and it makes you want to play harder when you get on the field.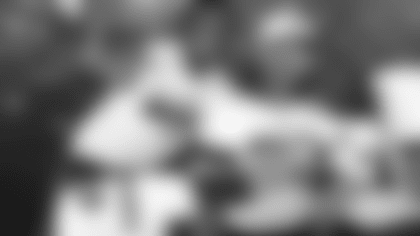 Sarina: What's unique about the Rams? What is the difference in the interviewing process? What do they ask you?
Dont'e Deayon: Right, so it gets down to the core of who you are. What are you made up of? On the field can travel off the field too. On the field, what type of player are you? Are you a smart player? Are you a dude who can pick up concepts well? Then off the field, guys who you can relate to. There's older guys who've been through things that you probably didn't go through. Well, you might end up going through… and they give you that game and experience from their point of view.
Sarina: What kind of player are you?
Dont'e Deayon: Oh that's a long list. (Laughs) I like to focus on the details of things. Aggressive. I want to know the ins and outs of what we got going on. I want to know what's the certainty like. What we're looking for. What we're expecting from these calls, or expecting these formations from teams and the things you can anticipate because I play off of a lot of anticipation. I play in the corner. And that's how I can get my interceptions, you know?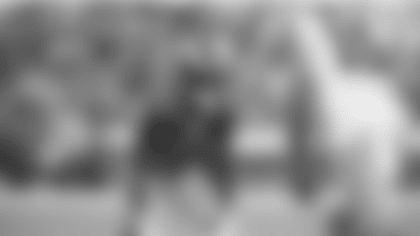 Sarina: Which you did! Against the Cowboys.
Dont'e Deayon: Yeah, I got one of them! And that comes from the preparation. Just studying and then people think game days are games days, but I get loose and have fun. You know what I mean?
Sarina: All the hard work is done before.
Dont'e Deayon: Right, prep, all that week. All that you put in leading up. The preparation really helps for game days.
Sarina: So back to 'Good Eatz,'Tyler Higbee says he doesn't like lettuce. And Gerald Everett says he doesn't like spaghetti. What do you not like?
Dont'e Deayon: I don't like sushi. I know it's a big one. I don't like sushi, I don't like tomatoes, I don't like onions. I don't like peppers.
Dont'e Deayon: Yeah, some salt, some pepper, some seasoning salt, but I don't really like too much of that extra stuff.
Sarina: Do you like lettuce and spaghetti?
Dont'e Deayon: I love spaghetti. Sometime with meatballs, sausages.
Sarina: But no tomato? So like a raw tomato, no, but like tomato sauce okay?
Dont'e Deayon: Yeah, tomato sauce is fine. Pizza? Fine. Love pizza. But not the tomato pizza like-
Sarina: Margherita pizza.
Dont'e Deayon: Yeah, I like regular pizza. I just can't have those big ol' tomato slices on it. I don't want those tomatoes.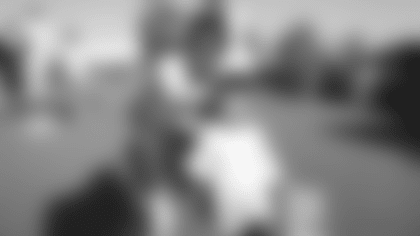 Sarina: Lastly, what is the last thing you binge watched?
Dont'e Deayon: I actually just binge watched Euphoria.
Dont'e Deayon: Yeah, that was a lot, that was a wild show. It's a different show.
Sarina: Shout out to Zendaya.
Dont'e Deayon: Yeah, she's doing it all. But yeah, that was the last show I binge watched.