Sarina: Now that Game of Thrones is over, I don't have anything to watch. What is your favorite show right now?
John: It was Prison Break, but now I'm watching Blindspot. You know it? The woman with the tattoos. She gets left in New York. 
John: I'm watching on Hulu. Hulu needs to sponsor me haha.
Sarina: We always look at you guys as athletes and guys who watch sports. What is a sport you won't watch?
John: Maybe tennis or golf?
Sarina: You know Micah (Kiser) picked up golf? I hear a lot of you guys picked up golf in the off-season.
John: Everybody said I would play golf, but I'm not. I don't even play Top Golf or putt putt or mini golf.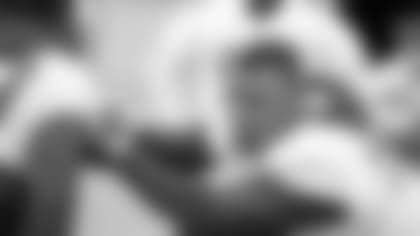 Sarina: What's the biggest improvement you have made personally since becoming a professional football player?
John: Learning how to be a pro. As a rookie, that is the thing you don't really know. Whether it be the walk-through tempo or the actual practice tempo. What you do in the off-season and in your free-time. What you do after practice, getting in that extra work. Recovery… all that goes into being a pro. And they don't teach you that until you get here.
Sarina: Joey (Joey Blake, Team Nutritionist) told me how proud he is of you. Why?
John: I work with Joey a lot. They wanted me to gain a little weight… and I gained the weight, and then it was, I couldn't stop gaining the weight (laughs). I got to the point where I wasn't too heavy, but maybe too heavy to play (defensive) end. Maybe a 3 (technique). So just trying to find that correct weight. There was a lot of fluctuation there. When I started losing weight, I needed to work on different techniques to lose weight. And here I am now, at a constant. Who knows what the next me will be, but Joey is someone who has always helped me when it comes to nutrition and losing weight and gaining weight.
Sarina: (Joey) told me, 'this is my guy now.' You've made it into Joey's good graces.
John: John Franklin-Myers Blake. (laughs)
Everybody said I would play golf, but I'm not. I don't even play Top Golf or putt putt or mini golf.
Sarina: Has Aaron (Donald) motivated you to get abs?
John: I think he does for the team… but I tell everybody… I'm not AD. Obviously everybody wants his contract.(laughs) But more, I want to know what he does outside of this, during the off-season. Yeah it looks good, but at the end of the day, I'm a D lineman. AD isn't the heaviest guy on the team. (laughs) He's 6 foot, 250-260 or whatever he is. *(Aaron Donald is listed at 280 pounds), but there isn't another D lineman that is that small. For me to sit here and want a six pack, is unrealistic.
Sarina: You are just happy Aaron (Donald) is doing that.
John: Oh yeah! We need him, so whatever makes him play how he plays, is what he should do. (laughs)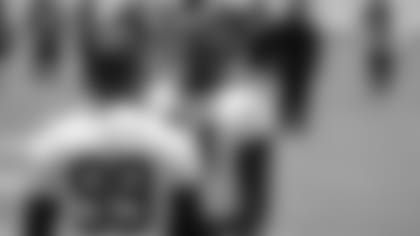 Sarina: If not football then what?
John: My dream would be to play in the NBA. But if not football or the NBA, coaching? I don't know.
Sarina: Would you be a coach?
John: I don't want to. I didn't really have a plan B. It was either football… or football. I haven't even thought about what I am going to be when I retire. I got at least… hopefully 10 (years)… as long as possible. At that time, I don't want to work anymore. I just want to make sure I am there for my kids. Be there for their games. Pick up from school. Stuff like that. I want to be a stay at home mom.
Sarina: When was the first time you realized you became an adult?
John: Probably after my rookie year. After the season, going into the playoffs. You don't realize how hard the NFL is until you make it to the playoffs. After we made it to the Super Bowl I became an adult. Experiencing the Super Bowl… that made me grow up whether I wanted to or not. It's just a different level of focus and attention to detail.
Sarina: Why was it so hard? Was it just because you were physically asked to play longer than usual?
John: That and being a rookie and having some type of role. I played on our dime package and a little bit on our base and just having that role in those game. The pace picks up so much more. Our coach told us all the time, 'You think this is fast, just wait for the playoffs'. Well, we get to the playoffs and it's nothing you can prepare for. Experience is the best teacher. (At the Super Bowl) I don't think we were outplayed, but sometimes it's hard to beat experience.
I don't think we were outplayed, but sometimes it's hard to beat experience.
Sarina: How does your size help you or hurt you off the field?
John: It helps not having to ask people for anything. What helps and hurts is the intimidation factor where maybe I don't have a lot of people trying me. But also, I walk in a place, and they know I am in the NFL and they just want me to be the tough guy…. And that's not me. I don't need to be the tough guy. You can be the tough guy.
Sarina: You are not that type of guy…
John: I just like to chill. Sometimes being big sucks. Also on planes, that's probably the worst time. Because I'm not getting a private jet. I'm not going to get first class. I mean, unless I am going overseas. I'm getting the cheapest flight, and that's always a problem.
Sarina: How do you even fit?
John: Uncomfortably. I get the aisle seat. Sometimes that doesn't help. The carts bump into me every two seconds. My shoulders are wider than the seats. I just flew back from Texas and I was like, this has to be the last airplane ride I take.
Sarina: Best moment this off-season?
John: Going on a cruise. I've never been on a cruise. I got a chance to visit Cozumel, Mexico and Grand Cayman and Costa Maya. It was a long cruise. A week on a boat could be torture, but they made it fun. Just seeing new places. I don't travel much and I don't like flying, travel wise, you only have three options. Being on a boat seemed like the best option for me. I've never been to these places, and I saw the Mayan ruins. At one spot, there was a water park. They had water slides… 12 stories high, 18 stories high and 24 stories high. Sliding from those big slides was crazy. I saw all types of lizards. I didn't like them, but looking back on it now that I am alive and well, it was fun.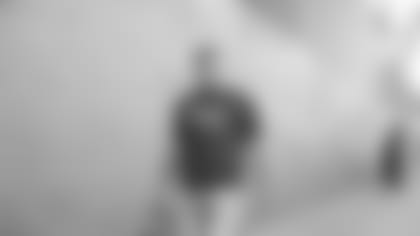 Sarina: What are you superstitious about?
John: I don't think I am. I don't have a routine or anything.
Sarina: Who is the most superstitious guy on the team?
John: Probably Brandin Cooks, but then you see the success he's had… maybe I do need to be superstitious. (laughs) But I'm at the point where it's almost too late to create a routine. Like, what am I supposed to do? Make a tackle and then jog three steps down the field… I can't do anything like that. But that's what he does. He'll catch the ball, or even when he doesn't catch the ball, he'll act like he caught it and about to run. Dline can't do that.
Sarina: Who is the guy on offense you are most like?
John: A lot of my friends are defensive players, but if I had to throw a name out there, I would say Big Whit (Andrew Whitworth)… just as a mentor. Anytime I need a hand, or need help. He put me on a new place to workout. I worked out there for three weeks and lost 3.5 percent body fat and seven pounds. It turned me around. He'll help me on the weekends, or last season, when I struggled, he kept me after practice and showed me stuff I did wrong when I went against him or when he would watch. He does that for everybody. I didn't realize it at the time, but when I got drafted, he was the first person to text me and congratulate me. I don't even know how he got my number. (laughs) But he was the very first person to text me. He's one of the vets here that changes the rookie's lives.
Sarina: Goal this season? Personally and professionally?
John: Contribute more to the team. Do what I can to help us win the Super Bowl this year. I would like to see us get back and do what I can to help. Outside of football… maybe workout a little more. Recover more. My life revolves around this. I don't have a hobby. When I get home, I go to sleep. I don't watch film at home, but I stay up here and watch film. I come back up every night. When I go home, I settle down. That's when life kicks in.