SARINA: Chris Rock is going to be involved in the next Saw movie. Who would you like to see in a horror movie?
MICAH: Straight up, I don't watch horror movies.
MICAH: (Laughs) Because I'm a chicken. I watched Silence of the Lambs when I was in elementary school, and I've been off horror movies (since). Why would I pay to be scared? I don't believe in that.
SARINA: No scary movies for you?
MICAH: No. I saw Get Out and Us for the culture, so when I (was) on Twitter, and people were talking about it, I knew what was going on, and I supported Jordan Peele. That was it. That's the only reason.
SARINA: Google Lens now has the technology to translate text and highlight top meals at restaurants. What are you craving technology does next?
MICAH: I want a chip in my arm where I have (the ability) to go boom. If I want to see a watch, I can see a watch. If I want to pay for something, I can just scan my chip. Everything is in my chip and I can download anything. If I want to download music, I can download it in my chip. I just have my chip, and everything is right there.
SARINA: Aren't you worried about Big Brother?
MICAH: Apple already has your finger prints, your social security, all cards you have. They have everything so Big Brother is already out there.
SARINA: I like that idea. How long have you thought about that chip?
MICAH: Just now it came to me (laughs).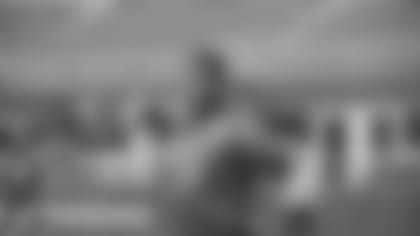 SARINA: Who do you want to see come play with LeBron James here in LA?
MICAH: I want to see little bro, Kyrie (Irving) come back into the fold and it would be nice to see AD, Anthony Davis. I know he lives out here (in Los Angeles). But I like (Kyle) Kuzma and (Brandon) Ingram and the young core that (The Lakers) have. I think the Lakers can win now with LeBron, so you have to try and get AD (Anthony Davis) somehow.
SARINA: Zion (Williamson) isn't going to affect anything?
MICAH: Zion is going to be in New Orleans for about eight years.
SARINA: You are really good at football, but what are you Mr. Struggles with?
MICAH: I picked up golf. I suck. In the off-season I was really bored. I was out here by myself, so I was like, 'Let me go play golf.' And I began lessons and (golf) is a sport I have a lot of respect for people that play.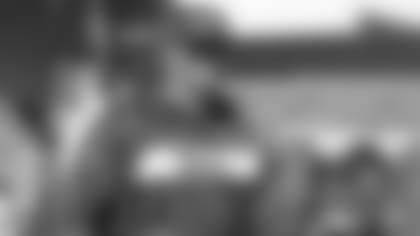 SARINA: The off-season is…
MICAH: Slow. When you play football throughout college, your schedule is always dictated by football. You play all Fall. In the Winter you have workouts all the time. In the Spring you have Spring ball all the time. You don't have a lot of time off. So out here, it's chilling a lot. For the most part, I didn't have anything to do, so I was playing golf. I was reading a little bit. And even now, it's mostly half days.
SARINA: That's right. You had that reading list… did you read the Alchemist?
MICAH: I did. I think it is kind of an overrated book.
MICAH: I think The Alchemist was a little overrated, but yeah, I read three books. I read a book every two to three weeks. Then I picked up golfing and (reading) went out the window.
SARINA: How about you read a book on golf?
MICAH: I got one. (laughs)
SARINA: Golf for dummies?
SARINA: What has golf taught you about yourself?
MICAH: Trying to learn patience. The worst thing you can do is to just continue to whack at it and you just keep making the same mistakes. When I just calm down, relax and be patient, is when I get my best shots.
SARINA: Do you think you could apply that to football?
MICAH: The thing with football is there is so much going on, so fast. You have to be on it. But yeah, at the same time, to not be overwhelmed and just relaxing and play to play. If something bad happens, just move on to the next one and not dwell on the past.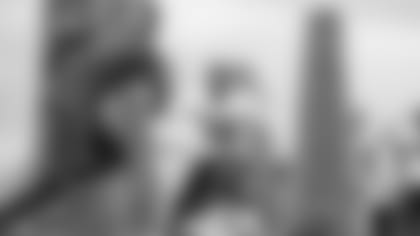 SARINA: You always have to remember things from the playbook, so what do you do to remember things?
MICAH: Football is football. You don't need a great memory. The formations aren't going to change. You've been doing the same thing since high school. There may be a different name for certain things, but it's football at the end of the day. Especially on defense, there are just so many things you can come up with. It's being able to recognize things. Reactionary.
SARINA: How does your size help you and hurt you off the field?
MICAH: Something interesting about my size… I'm not tall, but I have a big butt and big legs, so it's hard for me to wear pants. I wear a 38 (inch) waist, but I'm not really a 38 (inch). I can't fit my thighs into a 36 (inch) so I'm kind of in between. If there was a 37/32, I think that would be nice. But I have big thighs and a big butt, so I need a 38 (inch) to get around.
SARINA: Do you get your clothes tailored?
MICAH: You can do that. Sometimes they mess up my jeans. I (also) have a big chest so a lot of (extra-large) fit super tight. I can't fit a lot of XL, and I wear XXL a lot, but then (that) gets big too, so I'm in between sizes because I'm not tall. I'm 6'1" but I'm also 240 (pounds) which is a weird build. If they show a model that's wearing the clothes you want to buy, the model is 6'2" and wearing a medium. He's 160 pounds. If I was 6'2" and I was 240 (pounds) I would need a three-XL. It's hard to size my clothes.
SARINA: So, shopping sucks for you?
MICAH: Kind of. Yeah. I have to try on everything. I love Lulu Lemon. Once you find what fits you, then I just keep wearing them.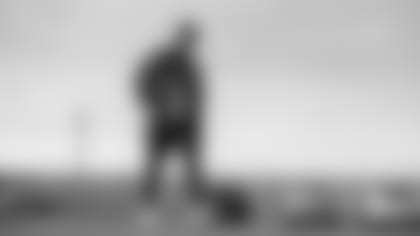 SARINA: How does your size help you? No one bothers you…?
MICAH: That also sucks. People just assume that you do something. They're just like "Oh you're a big guy, what do you play?"
SARINA: Do you get that a lot?
MICAH: Yeah. But it's cool at the same time. You get used to it.
SARINA: Goals for the season?
MICAH: I want to play a little bit more on defense. Get a role on defense and keep doing what I did last year on special teams. I'm a part of that with Bones (Special Teams Coach John Fassel) and all the guys out there. I will do whatever it takes to get us where we were last year, but ultimately win it. I think that's special about our team is that guys are very selfless and do whatever it takes. It's team first and whatever sacrifices you got to make… that's what I'm willing to do and pretty sure that's what everyone else is too.