Sarina: How long have you been growing your hair for?
Nickell: About four years. Growing in. Falling out. (Laughs)
Sarina: Why did you grow it out?
Nickell: Some people don't know the real meaning of dreads, but it's Rastafarian. It comes from the Rastafarian roots. It symbolizes peace and commitment.
Sarina: What is it about you Florida boys that play football?
Nickell: It's something in the water. We are just different. We have a different set of skills. Speed is one of the main things in Florida. I can't really tell you why it's like that. But, Florida football is the best football in the country… in the world, probably.
Sarina: It's you, Dante (Fowler), Sam (Shields), (Tyler) Higbee, LJ (Lamarcus Joyner)…
Nickell: Yeah, we are different. It's rare to see five people from each school go to a (division 1) or 10 people from each school go to D1 up north, but down south, that's a norm. I can go down the street and find someone better than me. Up north, that ain't happening. It's like a mecca for athletes.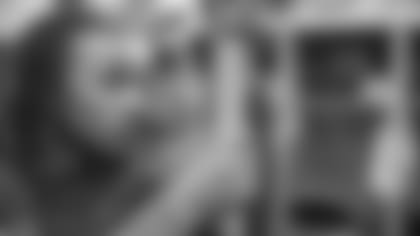 Sarina: Speaking of athleticism, if you played in a two-on-two game of basketball, who would you pick as your teammate?
Nickell: Easy, I would pick my best friend, Walt. Walter is amazing.
Nickell: Nope! (Laughs) He's about 5'10" - 5'11", but he's a dog though. He went to school for basketball. He played point.
Sarina: Well, that's cheating! (laughs) Give me a guy in the locker room you would pick then?
Nickell: (Michael) Brockers.
Sarina: That's cheating too! (laughs)
Nickell: I need a big man. I need a big man to hold down the middle. I can do the rest of the work. 80% from the field. I get the pick. He's setting them. All I got to tell him is roll. Roll to the basket baby.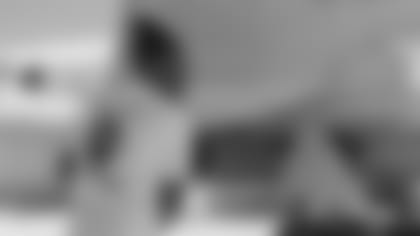 Sarina: You love your clothes, what item did you buy that you were like… woah, I spent a lot on that.
Nickell: My Slot God t-shirts.
Sarina: What do you mean? You bought a lot to resell?
Nickell: No, I invested. It's my company. It's trademarked.
Sarina: Why did you do that?
Nickell: To prepare for this moment right here. Seriously. I can't make this up. I had the company for two and a half years. I started it, didn't touch it. And then this year, I actually worked on it more. Went through mom and pop venders to get my t-shirts made. Like, local venders from where I am from. Then, I was literally selling t-shirts. It wasn't so much about selling, it was about getting my name out and getting people to be more aware of me. And then, boom, went through the season and now I'm here. The t-shirts are poppin' now. I made a deal with a vender. Now my shirts are manufactured and produced.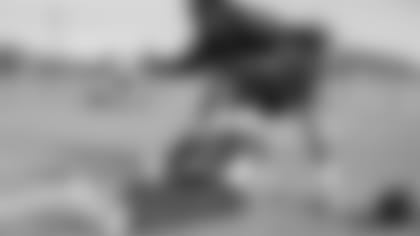 Sarina: Yeah, I saw Todd (Gurley) already bought one of your shirts. What was the last thing you bought for someone else?
Nickell: Christmas, I bought my sister a Rolex.
Nickell: She almost passed out. (laughs) Seriously, she almost passed out.
Sarina: I know you are a big food show guy, so what's a…
Sarina: I wasn't even going to ask, but sure, what cooking show do like to watch? (laughs) What food could you eat every day for the rest of your life?
You got Trojans and everybody else.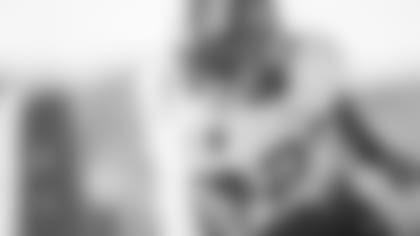 Nickell: French fries. I don't even go to McDonalds anymore to get burgers, I just get the fries. With hella ketchup!
Sarina: Waffle fry or steak fry?
Nickell: Waffle fry. All day. Ain't nothing like a crispy hot waffle fry.
(Assistant head coach/Linebackers coach Joe Barry walks over)
Sarina: Joe, waffle fry or steak fry?
Coach Barry: I'm a waffle fry guy.
Sarina: Team waffle fry here.
Coach Barry: Trojans! You know there are two kinds of people right Sarina? Tell her Robes.
Nickell: You got Trojans and everybody else.
Sarina: Do you want to do this interview Joe? (laughs) Speaking of Trojans, you are finishing your degree at USC… what are you planning to do with that thing?
Nickell: I'm already doing things with it and I don't even have it yet. I made my first real-estate deal this past January. I invested in two student-housing complexes near Arizona state. Then I have two more properties in Missouri, apartment complexes, between 50 and 70 units, so yeah, it's going great.
Sarina: Who came to see came to see you play at the Super Bowl?
Nickell: Intermediate family and my boy cousins and my CEO of my t-shirt company, and my agents.
Sarina: Finally, what does your mom think about you going to the Super Bowl? (Nickell's mother Maxine Robey died of heart failure at 44 years old in 2010.)
Nickell: Ah, she's happy for me. She's definitely happy for me. Like, I can feel her smiling. She knows this is what I want. In the past I didn't feel like that, but this year, I really feel that way. She's really looking down. This year has been a pretty adverse year, but at the same time, it's been one of the best years of my life.