As part of the Rams' celebration of Black History Month and the story of Kenny Washington, the organization is highlighting four staff members throughout February who helped bring the "Kenny Ran So I Could" campaign to life.
Up first is Tiras Holifield, a member of the Rams' brand strategy team who has been involved with the campaign since joining that group.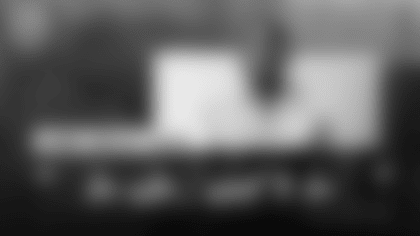 For Tiras Holifield, inspiring change is about maximizing opportunities to create momentum.
"To me, Inspire Change means utilizing the opportunities and platforms that we have, to help spread a positive message, with the hope that whoever hears that message invokes action," Holifield said.
Now in his second year with the Rams, he has been doing his part by helping bring to life the "Kenny Ran So I Could" campaign.
Holifield has been on the project since making the move over to the Rams' brand strategy team – which came after interning inside their partnership marketing department in his first year – and building out their entire Black History Month campaign.
"For the Kenny Washington film, I worked on coordinating the premiere screening at Miracle Theater, helping keep constant communication with the film's production team and the Rams internal team, working with our partnership marketing team to get our brand partners involved with this project, conceptualizing activation extensions for the film, and creating merchandise tied to the film," Holifield said. "And I even have a cameo in the film, so watch out for that as well."
In his current role, Holfield oversees some of the organization's multicultural tentpoles, brand collaborations, and partnership inclusions. He said the best part of his job is working with brands that he's a fan of – especially collaborations with merchandise and streetwear brands – plus being at SoFi Stadium on gamedays and watching players he grew up seeing on TV making plays right in front of him.
"My family has played a huge role in my career," Holifield said. "I have 4 brothers and 2 sisters, so I've always had a great resource of people that I've gotten advice and motivation from."
When it comes to celebrating Black History Month, Holifield goes back to the aforementioned positive impact as a source of inspiration.
"Support any kind of Black-owned businesses and acknowledge how Black people have positively impacted this world," he said. "Whether it comes to fashion, music, food, sports, pop culture; recognize the achievements of Black people and how those achievements inherently affect your everyday life."
And for Holifield, Kenny Ran So I Could "Be Who I Want to Be."