When Rams head coach Sean McVay receives the team's schedule each year, he first looks for who they will open the regular season against, then any abnormal kickoff times.
This year, Los Angeles opening SoFi Stadium on Sunday Night Football against the Dallas Cowboys in Week 1 was what captured his attention right away.
"The first thing that stands out is just the opportunity to open up on primetime in front of the world in the new stadium," McVay said. "That was something I think we had all hoped for. It's a great challenge against the Cowboys."
Overall, the Rams' 2020 schedule will feature five primetime games - the maximum allowed for a club in a season by the NFL. They are one of eight teams with five, joining the Cowboys, the Baltimore Ravens, Tampa Bay Buccaneers, Green Bay Packers, Kansas City Chiefs, New England Patriots and San Francisco 49ers.
L.A.'s regular-season opener against Dallas also highlights what could be an exciting, yet challenging first month of the season.
In September alone, the Rams will also face the Philadelphia Eagles and Buffalo Bills, two teams which qualified for the playoffs last season and are among the toughest road environments in the league.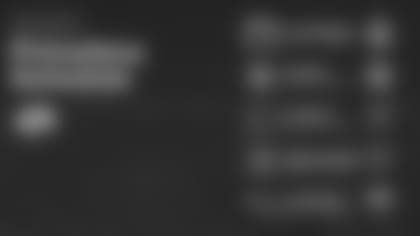 The Cowboys were on the cusp of reaching the playoffs last season until a loss to the Eagles in Week 16, and an Eagles win over the Giants in Week 17.
Sunday Night Football at the San Francisco 49ers in Week 6, Monday Night Football against the Chicago Bears in Week 7, Monday Night Football at the Tampa Bay Buccaneers in Week 11 and Thursday Night Football against the New England Patriots in Week 14 round out the Rams' primetime slate.
Most notably, the Buccaneers game is sandwiched within a group of divisional matchups against the Seattle Seahawks (Week 10), 49ers (Week 12) and at the Arizona Cardinals (Week 13).
"It's a tough stretch," McVay said.
At the same time, though, many of those games are 4-5 months out, and what those teams are on paper in May may not be what they look like in September or November. There are teams experiencing consistent success, but there are also teams that surprise the rest of the league.
McVay said when he was younger, he used to try to plot out when those tough stretches were or what an opposing team might look like at that point in the schedule. However, he hasn't done that since he became head coach of the Rams, given how unpredictable the league can be.
"I think the league changes, it's so competitive, there's 31 other teams that are doing a great job preparing," McVay said. "So my sole focus and concentration has been on, let's do a great job with the training camp opportunity that we'll be afforded, let's stay as healthy as we can and be ready for that first game when we play Dallas."