THOUSAND OAKS, Calif. – This Sunday will serve as a homecoming of sorts for Rams defensive lineman Sebastian Joseph-Day.
A native of Stroudsburg, Pennsylvania and former Rutgers University standout, Joseph-Day will have several family members and friends on hand when the Rams face the Giants at MetLife Stadium.
"(The vibes) are going to be sensational, immaculate, all that and more," Joseph-Day told theRams.com with a big smile after Wednesday's practice. "I'm always super excited, man, to be able to play in front friends and family – not just my family, but now friends, coaches, family, so it's it's gonna be an awesome experience."
Specific to his parents, the 2018 sixth-round pick said this weekend will be the third time he will have played a professional football game in person in front of his parents in his four seasons in the NFL so far.
The first such occasion came back in 2019, when the Rams hosted the Bears at Los Angeles Memorial Coliseum and his parents made the trip from Pennsylvania. He even commemorated the occasion by wearing t-shirt with a photo their faces on it as part of his arrival outfit.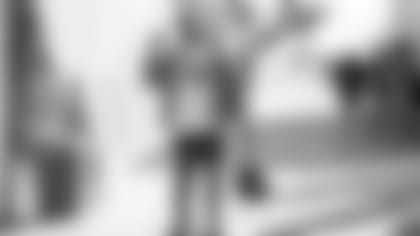 Of course, the excitement and anticipation this weekend isn't just about his parents, but other family and friends that will see him play, too. Joseph-Day said he was born and raised in Jersey and has a lot of family there, as well as friends who went to Rutgers, which is based in the state.
"So I have a lot of ties in Jersey," Joseph-Day said. "It's gonna be honestly like a homecoming to me, so I'm super excited and I'm just you know proud to just you know represent the LA Rams over there in Jersey and represent Jersey (and Pennsylvania) at the same time so I'm just excited man. It's gonna be lit."
What could potentially make an already special weekend even more memorable is the chance for Joseph-Day to set a career-high in sacks. His two so far this season tied the mark he set in 2019. A big performance would also help him get closer to setting a career-high in total tackles (has 30 through five games this year, career-high is 55 last year).
"It's a blessing, man, just to be able to go do what I love in front of the people I love," Joseph-Day said. "I'm just honored and I'm thankful and locked in. Good team on other side, a lot of talented players on that team, so I'm ready for that for that day to come."