Az-Zahir Hakim grew up playing football in Los Angeles, California. He watched the Los Angeles Rams and Raiders and dreamed of one day playing in the NFL.
The year was 1998, when Hakim finished his collegiate career at San Diego State University with 147 receptions, 2,622 receiving yards and 21 receiving touchdowns. Before he knew it, draft day had arrived, and Hakim was waiting to hear his name called. In the 4th round with the 96th overall pick, the St. Louis Rams selected the standout receiver from Southern California.
Hakim, who was 21 at the time, went into his rookie season under head coach Dick Vermeil and alongside other Rams legends such as wide receivers Ricky Proehl and 4-time Pro Bowl selection Isaac Bruce. Hakim knew that he wanted to be a vital piece with his speed and agility heading into the new season.
"The Rams picked me, and I thought, 'I have to be one of the players to be a difference maker,'" said Hakim.
In 1999, the Rams added to their receiver group with 7-time Pro Bowl selection Torry Holt and all eyes were on the Rams offense. That year they went on to win the NFC West Division and NFC Conference Title making it to their first Super Bowl since moving to St. Louis where they defeated the Tennessee Titans to hoist their first Lombardi Trophy.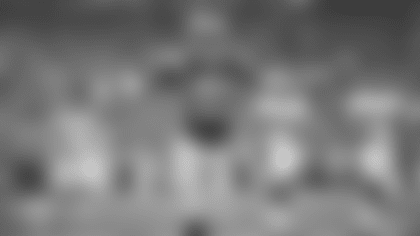 A huge turnaround from the previous season, Hakim was one of those vital pieces for an offense that the football world eventually name "The Greatest Show on Turf."
Furthermore, Hakim was not only a receiver, but played on special teams. He holds the all-time record for career punt return average in Rams history with at least 75 returns and 1,278 yards, averaging 11.4 yards a return.
In Hakim's nine seasons playing in the NFL with the Rams, Detroit Lions, the New Orleans Saints, the San Diego Chargers and the Miami Dolphins, he registered 4,191 receiving yards, 316 receptions and 28 touchdowns. But in hindsight, what he values the most are the years he spent in St. Louis under Coach Vermeil.
"Not only was he my coach, but he was my friend. He cared about his players, each one of us as individuals. He really took the time to get to know us as people," said Hakim.
"I thought that was very special because I played for five different organizations and I had many head coaches, and I think Dick Vermeil really separated himself from everybody that I played for. He definitely made an impact on me as a player, especially the little things, the details. I wouldn't be who I am, I wouldn't be the player I am, I wouldn't be the coach I am today if it wasn't for Dick Vermeil."
So what is Az-Zahir Hakim doing now?
Once a retired NFL player, Hakim had a vision to establish a foundation, Az Hakim Foundation, which would help make a positive difference in children whose lives have been affected by an incarcerated family member. He was inspired to build this foundation from his own personal experiences with having an incarcerated parent.
"I look after kids whose parents have been incarcerated. That was something dear to my heart. My dad was incarcerated my whole NFL career," said Hakim. "I didn't look at it as a negative that my dad was incarcerated, he just made some choices that weren't the best for the family, but at the time we were able to maintain. I wanted to make a difference."
Hakim and his sister, Sahkeenah, are heavily involved with the Az Hakim Foundation and try to make a difference in young children's lives. Hakim has envisioned the growth of his foundation and he eventually wants to build his own facility.
"I want to be able to present scholarships for those kids," said Hakim. "I want to have my own child care facility with an after-school program connected to it and an athletic facility attached. It's going to be the 'Land of Az,' so I'm working towards that."
Outside of the Az Hakim Foundation, Hakim has stayed in the game of football by coaching. Living in his native city of Los Angeles, Hakim has had different coaching stints from the high school level to the collegiate level and even the semi-professional level. His most recent coaching stint was with the Alliance of American Football (AAF) with the San Diego Fleet. Through a short-lived AAF, Hakim coached the wide receivers while his former teammate and Rams Legend Dre Bly coached the defensive backs.
Even though the AAF is no longer around, Hakim recently accepted a position to coach the wide receivers under head coach Jonathan Hayes with the Xtreme Football League's (XFL) St. Louis Battlehawks. Hakim will now be heading back to the city where his professional football career began and he couldn't be more honored.
"I made a call to Coach Hayes and at first, all the spots were filled. But he called me back a week and a half to two weeks later and said he had a spot available. It was a pleasure and an honor," said Hakim. "It's good to be back here in St. Louis and I'm very happy to be here and excited about this opportunity."