The preseason is a critical tool in the evaluation process for Rams head coach Sean McVay and his staff. 
While the first three games have given them plenty to digest and a good idea of where most positions stand, there are still a few groups they will be paying attention to throughout Thursday's preseason finale against the Texans in Houston. 
"What you're looking at, mainly, is I think we're starting to get some clarity on a lot of the skill positions," McVay said.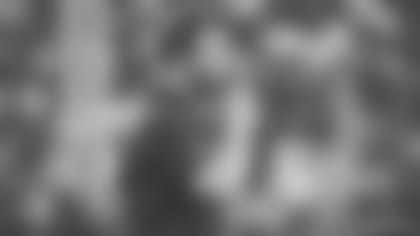 Much of Los Angeles' focus will be the depth on the defensive side of the ball, especially with the cornerbacks and inside linebackers.
At cornerback, rookie David Long Jr., third-year veterans Kevin Peterson, Dont'e Deayon and Dominique Hatfield and second-year DB Darious Williams have all made plays at some point for the Rams secondary during the preseason. Long and Williams have the fourth and seventh-most tackles on the team through three games, while Peterson has a team-high two interceptions.
"We've talked a lot about the depth that we have at corner, which is going to be a good positive, difficult decision to make toward the latter half of some of those decisions," McVay said.
The linebacker position will likely be just as challenging.
Rookie Dakota Allen paced L.A.'s defense with a team-high eight tackles against Dallas in Hawaii. That same game, Natrez Patrick made the transition from ILB to OLB seamless, with three total tackles, half of a sack and one QB hit. Making his first appearance in a live game in 593 days, former 2018 fifth-round pick Ogbonnia Okoronkwo recorded one tackle, one quarterback hit and one pass breakup in the same contest.
According to McVay, the staff will be using Thursday's game against the Texans to assess potential special teams roles in most of those players' cases.
"Clearly, the inside linebacker position is something that we've got to figure out exactly how it shapes up," McVay said. "In a lot of ways, it's going to be predicated on how we envision those guys contributing for (Special Teams Coordinator John Fassel) 'Bones' and for (Assistant Special Teams Coach) Matt Daniels."
Both sides of the line of scrimmage will round out the last of McVay's checklist.
Each member of the Rams' second-string offensive line – based on the unofficial depth chart – has received snaps in each of the first three preseason games, including projected backup T David Edwards, T Bobby Evans, OL Jamil Demby, C Aaron Neary and OL Jeremiah Kolone. Gaging that position's group's depth will be especially important with Neary out indefinitely due to an ankle injury sustained against the Broncos on Saturday.
On the defensive line, attention will likely be paid closest to the nose tackle position. McVay said they may hold out projected contributors like Sebastian Joseph-Day , which means rookie Greg Gaines, who is also competing for the starting nose tackle job, may be in line to see action. However, McVay said he would discuss that with the rest of the coaching staff and that no final decision has been made as of Sunday.
McVay said earlier this month that he welcomes the kind of competition that leads to those discussions. With so many players and position groups doing their job, he's going to have a lot to discuss.