IRVINE, Calif. – It was a run-heavy day for the Rams in Monday's training camp practice, the first in pads for players. Additionally, quarterback Matthew Stafford had a scheduled rest day, which meant more reps for Stetson Bennett and Brett Rypien. Still, there were plenty of noteworthy plays throughout the practice.
Here are 10 things that stood out from the session: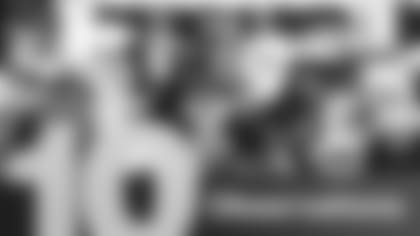 1) Vet rest day for Stafford: Head coach Sean McVay said Monday was a scheduled rest day for Stafford, which in turn gave more opportunities for Bennett and Rypien to command the offense. McVay said this was also to align with the regular season cadence of Stafford throwing four times in seven days. Stafford was still as involved as he could be in that capacity, spending time coaching up the Rams' young quarterbacks during individual drills.
2) Run-heavy emphasis: Monday's practice — the first of this year's training camp in pads — was a run game-heavy one by design, McVay said afterward.
3) Play of the day: Bennett connected with Kupp for a touchdown during redzone drills with the throw and catch both equally impressive.
4) Peanut Punch: Rookie defensive back Tyon Davis channeled his inner Charles Tillman, punching the ball loose from running back Zach Evans' grasp. Outside linebacker Daniel Hardy scooped up the loose ball, sending the defensive sideline into a frenzy.
5) Turner turns it up: Rookie nose tackle Kobie Turner had a play where he pressured Bennett from the interior, flushed him out of the pocket and forced him to run out of bounds.
6) Witherspoon back: Ahkello Witherspoon was back at practice, wearing a cast on his left hand as McVay said would be the case after undergoing thumb surgery. Witherspoon had a nice pass breakup during practice, swatting down a Bennett pass intended for tight end Tyler Higbee.
7) Zach Evans as a receiver: The fumble shouldn't overshadow that Evans had a nice moment in practice as well where he caught pass in the flat and showed speed and quickness getting past the linebacker as he ran up the sideline.
8) Hopkins goes high up: Tight end Brycen Hopkins made an impressive leaping grab over the middle on a pass from Rypien during team drills.
9) Robinson continues to shine: Wide receiver Demarcus Robinson made a tough touchdown catch in the corner of the endzone during 1-on-1s with rookie defensive back Cameron McCutcheon in coverage.
10) Welcome Royce: Newly-signed running back Royce Freeman participated in Monday's practice.