IRVINE, Calif. – The Rams on Saturday held their first 2023 training camp practice open to fans. Wide receivers Cooper Kupp, Van Jefferson, Puka Nacua and Demarcus Robinson provided plenty of big plays that excited the crowd on hand, but there were also some newcomers at defensive backs who shined, too.
Here are 10 things that stood out from the session: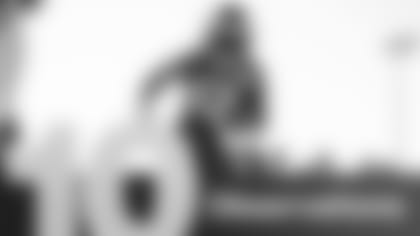 1) Injury updates: Rams head coach Sean McVay Defensive back Ahkello Witherspoon underwent thumb surgery and had pins placed in it. Witherspoon will have a small cast on, but still be able to participate in practice on a "restricted" basis, per McVay.
Meanwhile, McVay said the Rams will be "smart" with rookie tight end Davis Allen after Allen "ended up getting his hamstring" coming into training camp. McVay said the Rams tried to modify Allen's workload and "limit some of the different exposures in terms of what we were asking of him, but it was still just bothering him a little bit.
2) Jefferson catch No. 1: There were a couple impressive receptions by Jefferson during Saturday's practice, the first of which was an over-the-shoulder grab on a Stafford pass deep down the right sideline with little room to the sideline to spare. Jefferson celebrated by flipping the ball to the fans lining the barrier to the practice field.
3) Jefferson catch No. 2: Jefferson connected with Stafford again, this time on a deep touchdown pass, with Jefferson providing fans another souvenir with the same celebration.
4) Rookie connection: Nacua made an impressive over-the-shoulder catch near the corner of the endzone on what was roughly a 30-yard pass from rookie classmate Stetson Bennett.
5) Stafford-Kupp connection remains on schedule: The duo connected for a deep touchdown pass down the sideline that drew arguably the loudest cheers of the day.
6) Robinson catching on: Robinson made a difficult contested catch on a pass down the sideline from Bennett that likewise drew cheers from the crowd. And while not for a touchdown, Robinson had another impressive catch – in traffic – on a short pass from Bennett.
7) Not so fast: Stafford connected with Tutu Atwell on an intermediate pass in Wednesday's practice, but as Atwell turned up field, safety Jordan Fuller knocked the ball loose to force a fumble that was scooped up by the Rams defense.
8) Stretch: Rookie defensive back Tre Tomlinson made an impressive play near the goal line, extending his right arm to break up a Brett Rypien pass intended for wide receiver Austin Trammell that would've gone for a touchdown had Hodges-Tomlinson not intervened.
9) Almost: Rookie defensive back Timarcus Davis nearly made one of the best interceptions in the early stages of camp, getting his hands on a Bennett pass and juggling the ball as he fell backward before it just escaped his grasp.
10) Denied: Defensive back Vincent Gray, whom the team signed this spring, had a pass breakup on a Bennett pass down the sideline intended for Robinson that drew cheers from the crowd.