IRVINE, Calif. – The Rams held their second acclimation practice of training camp on Thursday, highlighted by Matthew Stafford and Cooper Kupp connecting for impressive plays and the playmaking by defensive backs at other times.
Here are 10 things that stood out from the session: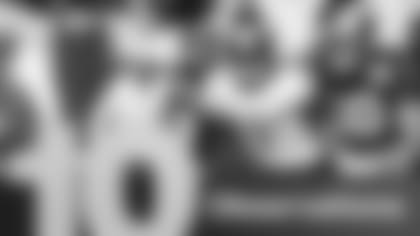 1) No drop-off between Stafford and Kupp: The Rams' pass-catching duo may have been limited to eight games played together last season due to their respective injuries, but on Thursday, it was as if they had not missed any time. A well-timed Stafford deep pass fell right into the hands of an in-stride Kupp, who was ahead of the coverage for the touchdown. Kupp also made an impressive catch on another Stafford pass, keeping concentration as he tipped the ball to himself to make the grab in traffic.
2) Making a splash: Second-year safety Quentin Lake jumped in front of a Stetson Bennett pass over the middle for an interception early on in Thursday's practice. Lake was placed on the Physically Unable to Perform list at the beginning of last year's training camp due to a knee issue the team was monitoring that would sideline him for most of his rookie season, so it was an encouraging sign to see him making a play like that.
3) One more Kupp catch for good measure: Kupp also made a sliding catch at one point during team drills, using full extension of his arms in the process to snag the pass from Stafford. If you see the grass stains on the left shoulder of his jersey while watching his press conference video, that's one of the reasons why.
4) Almost: Rams head coach Sean McVay on Wednesday said that it was great to see defensive back Ahkello Witherspoon – whom the team signed in late June – out on the field. On Thursday, Witherspoon got himself noticed again with a near-interception of a short pass by Stafford intended for wide receiver Tutu Atwell.
5) Cam Akers has a bigger frame (in a good way): While he didn't disclose an exact target when asked what he wanted to get his weight up to, Akers looks noticeably stronger. The full extent of that impact won't be known until the pads come on – plus, Akers himself also said, when asked what difference that makes, to "ask me after the first day in pads" – but it's something to watch.
6) More from Puka: So far, training camp has been a continuation from OTAs and minicamp for rookie wide receiver Puka Nacua, as the Rams continue to test him and give him a sizable workload. He showed reliable hands when connecting with Stafford on a couple passes in Thursday's practice. Although Nakua was carted off the field at the end of Thursday's practice, he was just cramping and that was the extent of it, per the team.
7) Left tackle and center watch: Similar to Wednesday, the Rams continued to rotate Brian Allen and Coleman Shelton at center and Joe Noteboom and Alaric Jackson at left tackle.
8) Odd play: There was one moment where one of Bennett's passes got batted at the line, and the ball bounced like a pinball off the hands of a few offensive and defensive players before being caught by Shelton.
9) Approach to backup quarterbacks: The Rams appear to be taking the same approach reps-wise with Brett Rypien and Stetson Bennett as they did during OTAs and minicamp.
"Very calculated in terms of what we're trying to get done with both of those guys," LaFleur said after Thursday's practice.
Rypien has NFL experience, so for him, the reps aren't as much about getting adjusted to NFL speed as much as they are about getting used to throwing to different guys, "and that's a big deal," LaFleur said. Bennett is obviously on an NFL field for the first time.
"You want to get both of those guys opportunities," LaFleur said.
10) Rest day for Van: Fourth-year wide receiver Van Jefferson did not practice today because he had a rest day, according to the team.