IRVINE, Calif. – Wide receivers Puka Nacua and Tutu Atwell stood out with their playmaking, but there were also others who shined, too, during Sunday's open practice at 2023 Rams Training Camp presented by UNIFY Financial Credit Union.
Here are 10 things that stood out from the session: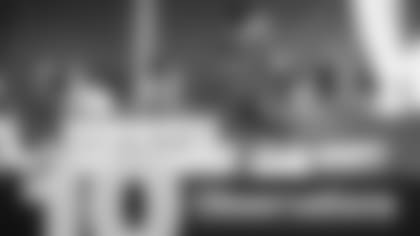 1) Offensive line experiments with some different combinations: With offensive lineman Rob Havenstein out with a neck strain for precautionary reasons and offensive lineman Brian Allen getting a rest day, it afforded the Rams to chance to try out different offensive line combinations.
3) Rochell back: After not finishing Saturday's practice due to an ankle issue, defensive back Robert Rochell returned to the practice field on Sunday.
4) Extension: Defensive back Quentin Lake made an impressive diving pass breakup during 7-on-7 drills.
5) Stafford to Puka: One of quarterback Matthew Stafford's best passes of the day came when Nacua snagged a Stafford pass in tight space near the sideline that drew oohs and ahhs from the crowd.
6) Another strong Puka catch: And if those two examples weren't enough to prove how good of a day Nacua had, he also made a contested catch near the sideline
7) Turbo Tutu: Wide receiver Tutu Atwell raced past double-coverage to connect with Stafford on a deep touchdown pass down the sideline during team drills.
8) Witherspoon says no: Defensive back Ahkello Witherspoon made a nice pass breakup on a short Stafford pass intended for Atwell.
9) Almost: Stafford nearly connected on a deep touchdown pass down the sideline to Demarcus Robinson, just overthrowing him. To Witherspoon's credit, he stayed right there with Robinson – it was just that good of a Stafford pass that just missed Robinson.
10) Other impressive deep passes: Quarterback Stetson Bennett connected with wide receiver Lance McCutcheon on a deep touchdown pass during team drills that drew cheers from the crowd. There were also cheers from fans after an impressive deep throw by quarterback Dresser Winn to wide receiver Braxton Burmeister, who successfully high-pointed the ball near the sidelines and managed to keep both feet in bounds to make the catch.