The 2019 NFL Scouting Combine is underway and as prospects hit the field, coaches and GMs take the podium, and the NFL looks toward its 100th season, theRams.com Combine Notebook will cover the top storylines Indianapolis related to the NFC Champion Los Angeles Rams.
Here are some notes from Thursday, February 27th: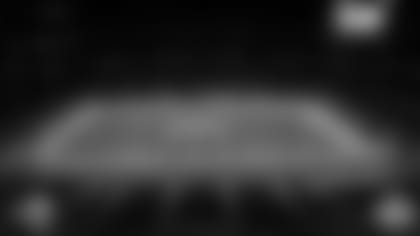 On Wednesday Cardinals head coach Kliff Kingsbury was complimentative of his new NFC West counterpart, calling head coach Sean McVay "one of the best football minds there is".
McVay mentioned just ahead of the postseason that he considered adding Kingsbury to his staff for a run at the Super Bowl and on Thursday shared his thoughts on what the young head coach will bring to his new club.
"Well, I think he's a great coach. I think he's a great communicator. He's got a good juice and enthusiasm. I think he's got a nice presence about himself where you feel really confident that the players will respond to him. You look at the production specific to offenses, he's a creative mind."
Kingsbury joins the Cardinals and NFC West as a first-year NFL coach after six seasons as a head coach in the college ranks at Texas Tech.
RAMS INTERESTED IN RETURNING SUH, FOWLER
Both defensive tackle Ndamukong Suh and outside linebacker Dante Fowler are set to hit the free agency market this offseason, and on Thursday McVay expressed interest in bringing back the defensive duo.
NFL.com's Herbie Teope reported the story from the NFL Combine in Indianapolis, but says McVay's comments could be taken with a grain of salt.
"Meanwhile, it isn't uncommon to hear head coaches express a desire to bring back players set to become free agents. But in the case of Suh and Fowler, that exact scenario makes perfect sense for a championship-caliber team possessing some of the NFL's top defensive players.
SNEAD: NO 2019 FRANCHISE TAG
The Athletic L.A. staff editor Rich Hammond reported that the Rams do not plan to use their franchise tag with free agency around the corner.
Fowler and Suh are joined by safety Lamarcus Joyner, left guard Rodger Saffold, and running back C.J. Anderson as 2018 contributors preparing to test the waters in free agency.
McVay said in his press conference on Thursday morning wide receiver Cooper Kupp is expected to return to the playing field by late summer's training camp.
Kupp missed eight games of his second professional season — six due to his torn ACL suffered Week 10 against Seattle.
Team insider Myles Simmons reported just how productive Kupp was in 2018, despite missing significant time.
"To McVay's point, Kupp caught eight passes on 11 targets in the red zone, three of which resulted in touchdowns. Eight of Kupp's 10 receptions on third down resulted in first downs. And despite playing in only eight games, Kupp still finished tied for the team lead with six touchdown receptions. Overall, Kupp caught 40 passes for 566 yards with those eight TDs in 2018."
For Simmons' full article on McVay's updates on Kupp, click here.
The NFL turned back the clock to 2014 and shared Combine highlights from the loaded quarterbacks class of Jared Goff, Dak Prescott, and Carson Wentz.
Weber State offensive line product Iosua Opeta drew attention Day 3 of the Combine after pumping out 39 bench press reps of 225 pounds.
Opeta is Thursday's top performer in bench press — former Kansas State running back and former N.C. State offensive lineman Garrett Bradbury are tied at the No. 2 spot with 34 reps each.
Here's a look at Friday's schedule from the Combine in Indianapolis, via Sports Illustrated:
Friday, March 1 – televised coverage begins at 9 a.m. ET on NFL Network
Groups scheduled to go through registration, interviews, exams
Groups scheduled to go through bench press, Wonderlic and speak with media
Groups scheduled to participate in field drills