Periodically over the remainder of the regular season, theRams.com will feature 6 Questions with 6Connex with a different player.
Up first is kicker Matt Gay, who discusses his inspiration for playing soccer at first, his sneaker hobby, being a parent of two boys and more.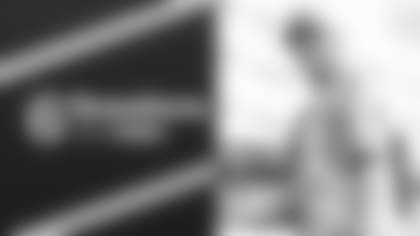 1) What drew you to playing soccer at first?
"I'm the youngest of eight kids. The brothers played and so just watching them play growing up, that was like, my first love. So watch my older brothers play. It's kind of what got me into it."
2) What led to sneakers becoming a hobby or passion of yours?
"I think it originated with soccer. I was obsessed with cleats, OK, and so I was always in the cleats. And then this sneaker game kind of came on last few years. I think it's gotten really, really big as of late and so I've always liked it through high school and kind of college and stuff. But I mean, sneakers are expensive. And so just until you know, as of late being able to get some sneakers that actually want. Yeah, originated with cleats."
3) It looks like you've also successfully gotten long snapper Matthew Orzech and punter Johnny Hekker on board in that area.
"I can't take any credit for Johnny. I gotta give all credit to his wife. His wife's getting him, his wife's buying him the shoes. All credit to Makayla on that one. She's buying him the shoes."
4) You and your wife are proud parents of two boys. What do you like the most about being a dad/parent?
"I just love watching these little boys grow up and just being able to help them. I find joy in the smallest little things, like every little day they learn something new. My youngest right now, he's really, really starting to talk, and so every day I feel like he's learning to say something new. It's like, 'Well, how did you learn that?' and stuff like that. So just watching them grow up, and just being able to share that role, my wife enjoyed being able to know that like, that's half you-half me, and we made this little family between us. And so that's like number one in my life, is I always wanted to have a big family and have kids and so yeah. I got a great partner in Millie to help me raise these boys. "
5) Is the oldest leaning one way or the other when it comes to soccer and football?
"I don't think so. I'm trying to go the soccer route, I want him to go the soccer route. But I think he just – seeing me play football, seeing me on TV and stuff, it's going to be hard to keep him away from it. But I would like him to go the soccer route first."
6) Anything unique to the way you approach placekicks, as far as your mindset or routine?
"I try to have a process going into each game, but it's the same process throughout practice, games, everything like that. I try to keep that as consistent as possible. You do that so much because of muscle memory, so in the games, you don't have to think. So I think getting to the point where that's so consistent, that's so engraved in who you are and what you do that when you go out to the game, you can kind of just be free and go, 'see ball, kick ball.' That's kind of the approach I have."
6Connex is a proud sustainability partner of the Los Angeles Rams, and the leading provider of virtual and hybrid events, venues, and environments for enterprises worldwide. Learn more about the endless opportunities with 6Connex - the better way to do virtual events - at www.6Connex.com.