INGLEWOOD, Calif. – Influences of some of the NFL's most modern stadiums in Minneapolis, Dallas, Atlanta and Indianapolis show up throughout the project, but there are plenty of SoFi Stadium elements unique to Los Angeles that Rams fans will recognize as they observe its progress toward completion over the coming months.
"I think the thing that always stands out to me at the stadium when you're here is, it's only in L.A.," Rams Chief Operating Officer Kevin Demoff said after Thursday afternoon's tour for Rams employees.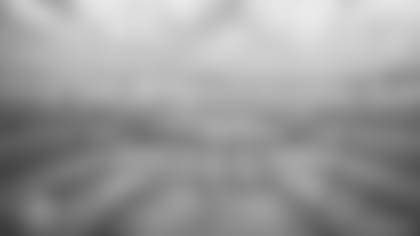 Demoff's statement holds true across multiple aspects of the site.
More than 12,000 workers have had a hand in getting SoFi Stadium where it is today, according to Demoff, including members of a local non-profit community program 2nd Call and more than 100 formerly incarcerated workers. The construction site currently peaks at more than 3,200 being involved in various elements, many of them based in the L.A area.
"This has truly been a passion project for so many," Demoff said.
Structurally, each level of the stadium has sight lines or features that tie into the city's topography.
On the perimeter of Level 8, you can see Palos Verdes and the ocean. On level 6, the Hollywood sign on a clear day.
Another iconic Los Angeles venue, The Forum, can be easily seen next door.
There's also canyon entrances to the patio clubs, as well as being able to feel the breeze because of the indoor/outdoor design.
"When you're walking around the building, you look and say, 'This can only happen in Los Angeles," Demoff said.
Overall, the stadium is slowly coming together heading into its projected summer 2020 completion date.
Parking lots are being paved and trees are being planted at the patio club entrances and throughout the lots. The building which will house NFL Media and NFL Network next door is rising out of the ground, with the lake, water feature and hotel to come soon after.
With exterior features moving closer to being finished, Demoff has begun thinking about what the interior will look like.
"I got asked questions by the staff about the first game date, and I said, 'Let's have it be the Thursday opener, Thursday night football for the defending Super Bowl champs,' so there's a lot of work to be done," Demoff said. "We'll let (head coach) Sean (McVay) and (GM) Les (Snead) and the players see if we can raise a banner."
Not a bad idea for another L.A.-exclusive feature.