THOUSAND OAKS, Calif. – In the final installment of a four-part series highlighting Black-owned businesses that have visited the Rams' training facility this season, theRams.com spotlights the food truck Pineapple Express.
Kevin Burton, also known as DJ "Kevvy Kev" and the co-owner of Pineapple Express, talks about how it got started, where people can keep up with its location, its future plans and more.
1) How did Pineapple Express get started and how long has it been in business?
"Pineapple Express got started during COVID season, when we lost our jobs. I'm a DJ, so the clubs had all closed down, so trying to find a way to feed my family. I already had the experience with cooking, so I was just like, 'Man, maybe you should make a food truck.' Got started, and it literally just took off from there. I utilized my followers from already throwing events and parties locally, me being from the Los Angeles area, and utilized that and just made it work."
2) What's it been like being able to be at the Rams' facility and serve players, coaches and staff throughout the season?
"Oh man, it's a blessing. Shoutout to (Social Justice & Football Development Coordinator) Noel Grigsby, who works for you guys. Direct plugged me through – Crenshaw native, we graduated together – with (Rams Executive Vice President of Community Impact and Engagement) Molly (Higgins), who's a great, great person. We had a conversation, and ever since then, you guys have been such a blessing. Feeding the players, the players actually knowing me, getting to know me and knowing my name, seeing me around, it's – I never would've thought this. I'm super grateful. It's definitely welcoming."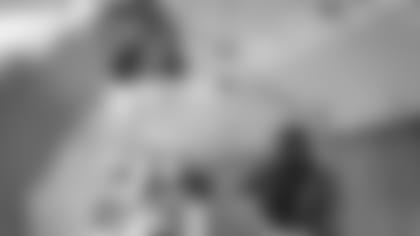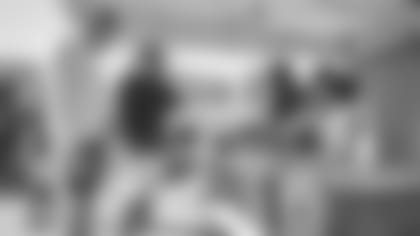 3) Where can people find your business and keep up with it?
"You can find me on Instagram typically: @imkevvykev. Pineapple Express, as we're reconstructing right now, looking for a storefront, so be on the lookout for that."
4) What else do you want people to know about your business?
"I want people to know we're versatile, we're not just pineapples. As you see (with) today, barbecue plates – ribs, chicken, we do it all. Enchilada pies. Whatever your needs, we have it here. So just look for more, just being more versatile, Pineapple Express just being the express way to feed you. I look forward to also working with the Rams next year as well, whether it's DJ-ing or cooking."