There was plenty to come out of the league meetings this week — particularly from the coaches breakfast on Tuesday morning. Here are five takeaways from the annual event.
The NFL implemented a number of rules changes, most notably making both offensive and defensive pass interference a play reviewable by coach's challenge. Pass interference will also be able to be reviewed by officials within the last two minutes of a half — just like how reviews are currently initiated.
What's more, even non-calls are able to be challenged and/or reviewed.
While the rule hadn't quite yet been implemented on Tuesday morning, head coach Sean McVay told assembled media at the coaches breakfast that he was in favor of a method to make sure calls were correct.
"I think whatever we can do to continue to clean up the integrity of the game — as far as not missing clear-cut things. And I think the big thing that's been made about it — obviously, we all know we're talking about Nickell Robey's play against the Saints — that was a play that worked in our favor," McVay said. "But we're not going to sit here and say when you go back and watch it that it wasn't defensive pass interference — we all know that. And we want consistency with some of those things."
"But anything that's progressive in terms of just making sure that we officiate the game the way that it's worded in the rule book, and can stay within those frameworks is exactly what we all want as coaches," McVay added.
While that change has received the most headlines, the league also made a number of more changes — like making permanent the 2018 kickoff rules. ESPN's Kevin Seifert detailed all of them in an article that you can read here.
2) RAMS "ABSOLUTELY" WANT TO EXTEND PETERS
One significant Rams headline to come out of the league meetings was that McVay said his team would "absolutely" like to sign cornerback Marcus Peters to a long-term extension.
Peters is entering the final year of his rookie contract as a first-round pick from the 2015 NFL Draft. The Rams picked up Peters' fifth-year option after officially acquiring him at the start of the 2018 league year from Kansas City.
This week, McVay cited Peters' improvement in play throughout the season — culminating with his performance in Super Bowl LIII — as one reason why they team would like to keep him around.
"I think he is such an instinctual tough football player, he's got a charisma and a presence and a swagger about himself," McVay said, "but I think the thing I was most pleased by Marcus was you find out a lot about people when they go through some tough times, some adversity and the way that he responded from some of those things early on in the year is what you love about him and hopefully we get the chance to work with him for a while. I told his agent, Doug Henrickson, seeing him yesterday, if he keeps playing this way, I think hopefully we will get to work together for a long time."
In 61 regular-season games, Peters has 22 interceptions — three of which he's returned for a touchdown — and forced five fumbles. He's also made two interceptions and recorded seven passes defensed in seven postseason contests.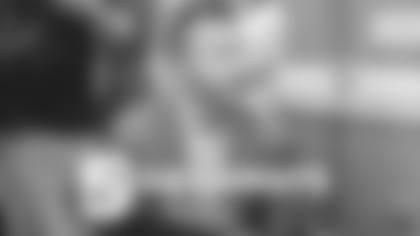 3) GOFF EXTENSION COMING?
Having completed his third professional season, quarterback Jared Goff is now eligible for a contract extension.
But just because he can get one doesn't mean he will in the very near future. General manager Les Snead somewhat made that clear at the NFL Combine, but McVay reiterated that while it's certainly on the radar, it isn't necessarily urgent business at this point.
"[W]e know we want to get him done at some point," McVay said. "Whether it happens this year or next year, those are things we haven't really gotten in depth about yet."
In two regular seasons under McVay, Goff has compiled a record of 24-7, completing 63.6 percent of his passes for 8,492 yards with 60 touchdowns and 19 interceptions — good for a passer rating of 100.8.
Whenever a Goff extension comes — and at the rate the quarterback is going, it's a matter of "when" not "if" — he will likely be handsomely compensated for his performance as a professional.
4) RAMS LIKELY SET AT RUNNING BACK
Running back Malcolm Brown is officially back in the fold after the Rams matched the two-year offer sheet he signed with the Lions as a restricted free agent. Originally signed an undrafted free agent out of Texas back in 2015, Brown has spent his entire career with the Rams and will continue that in 2019.
Brown suffered a season-ending clavicle injury against Detroit in Week 13 — when the Rams clinched the NFC West in a 30-16 victory. But losing Brown was a significant blow to Los Angeles, which McVay reminded reporters during Tuesday's breakfast.
"[T]hat was a big loss for us, because he had played really well when he had to step in or just being able to spell Todd [Gurley] on first, second, or third down," McVay said. "He could truly do everything — protection, running the football, he made a big catch as early as the Oakland game on third down and short — so we are really excited about getting Malcolm Brown back."
But with Brown's return, the Rams are much less likely to re-sign C.J. Anderson, who was a key piece in Los Angeles' run to Super Bowl LIII. McVay, however, didn't close the door on bringing Anderson back — or adding another playmaker at the position.
"As far as what we do, whether it's the draft, or any of that, we are always looking to add playmakers," McVay said. "But C.J. is somebody that — what a great job he did for us — as of right now, I think we feel pretty settled at the running back position, specific to free agency and other things like that, but you never want to say never because different things can occur."
5) SPEAKING OF RUNNING BACKS….
McVay jokingly replied to a reporter midway through his media session that he wasn't going to talk about Gurley's knee anymore, but toward the end of the session he agreed that the running back's status is going to understandably be a story until the Rams are playing games that count once again in September.
"I think you do know that. That's a result of Todd being such a special, productive player that he's so important to what we do and to the success we've had over the last couple years. So you're not naïve to [think] that those things are going to go away," McVay said. "But I think what's important for us is, let's figure out what's the best way to put Todd in position to have a successful season over the course of the entire year. And some of those things are both what we can control as a coach, and what he does as a player to get himself ready."
"We're not naïve to it, but that outside in perspective — we want to be more inside out and know what we can control is just doing those things to try to help put Todd in a great situation to continue to do what he's done. And then Todd will do his part as well. But, hopefully, we won't allow that to be a distraction for us."
Both McVay and Snead have said during the offseason that the club plans on monitoring Gurley's snaps over the course of the 2019 season. But Gurley is still slated to be the team's starting running back, and Los Angeles expects plenty of production out of him in the upcoming season.