The Rams keyed in on the run game both offensively and defensively in the Divisional round, defeating the Cowboys 30-22. Here are five takeaways from what was the team's first playoff victory since the 2004 season.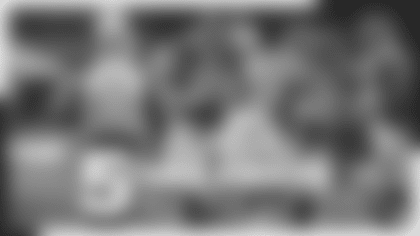 1) RUN DEFENSE SHOWS DRAMATIC IMPROVEMENT
Last Tuesday, veteran cornerback Aqib Talib wanted to make a point about just how different the playoffs can be than the regular season when a reporter asked him if stats matter, given that Los Angeles allowed 5.1 yards per carry during the regular season.
Talib turned the question back on the reporter, asking how the Colts fared against the Texans' No. 1 rush defense. And when the reporter didn't know, Talib emphatically pointed out Indianapolis running back Marlon Mack had 150 in the Wild Card matchup — meaning, regular-season numbers are irrelevant once the postseason hits.
The Rams' defense proved that to be true on Saturday night, holding the Cowboys to just 50 yards rushing. That was Dallas' lowest rushing output of the season, and the fewest yards on the ground L.A. has allowed all year.
Los Angeles' defense had been trending in that direction over the last few weeks of the regular season. But the Rams ability to stop such a potent ground game when it matters most is a good sign for the club as it continues this playoff run.
Defensive lineman Ndamukong Suh was a significant factor in the Rams shutting down the Cowboys ground game, as he quite possibly played his best game in a Los Angeles uniform in the Divisional round.
Suh picked up four total tackles — one for loss — with two quarterback hits. But as head coach Sean McVay put it, those numbers likely don't tell the whole story of how effective the veteran lineman was.
"[I] thought he was outstanding in those early downs. When he's able to do that, it makes a huge difference," McVay said. "I thought he really came with a great focus and concentration this week and I think it showed up with the way that he was able to play. Anytime that you're getting that kind of production and even sometimes it might not show up on the stat sheet, but you just look at the way that he influenced and affected the game a lot of the ways that we talk about Aaron [Donald], I thought Suh did that [Saturday] night and it was a big, big-time performance by him."
Frankly, Los Angeles signed Suh to be dominant in these kinds of games. That he was able to do so is another good sign for the club for this postseason.
3) GETTING A SECOND-QUARTER RUN
Teams are at their best when all three phases are working together. That statement certainly isn't breaking news. But when it happens in the playoffs, that gets magnified because it can often determine the game.
One sequence like that happened in the second quarter, when the Rams forced a pair of Dallas punts on two short drives — one lasted four plays, another was a three-and-out — then scored touchdowns on offense.
Los Angeles had already pushed down into the red zone twice, with drives of 11 and 16 plays. That likely helped wear down the Cowboys defense, but then the offense was able to finish drives with touchdowns by running backs C.J. Anderson and Todd Gurley.
With the high-scoring offenses that remain — the top four teams in scoring are the final four teams this season — when L.A. gets a stop, the offense must cash in by putting points on the board.
4) STILL ROOM FOR IMPROVEMENT
One defensive issue that the Rams have been working to correct since their Week 12 bye has been limiting big plays. For the most part, they've done that. But it came up again during last week's game, as L.A. let up six plays of at least 20 yards — each of which came through the air.
The longest play was an off-schedule throw quarterback Dak Prescott made to wide receiver Michael Gallup that went 44 yards down to the Los Angeles two-yard line. But there was also the first-quarter, 29-yard touchdown pass to Amari Cooper. And a pass interference penalty in the fourth quarter moved the Dallas offense to the one-yard line on fourth down.
The Rams did have trouble slowing big plays against the Saints back in Week 9 — most notably on a 72-yard, fourth-quarter touchdown pass from quarterback Drew Brees to wideout Michael Thomas. Los Angeles will have Talib on the field for this contest, though, and that should aid in limiting those big plays.
Two of the oldest Rams on the roster earned their first playoff victories on Sunday — left tackle Andrew Whitworth and left guard Rodger Saffold.
Whitworth had been to the postseason seven times before — six with Cincinnati, once with L.A. — but had never experienced the taste of a January W. Now he has.
"[I]t's a great feeling and I'm happy to have it, but I didn't try to get to the playoffs to just win a playoff game. I'm trying to win a Super Bowl," Whitworth said. "That's the only focus and now we are one step closer."
Saffold has been a member of the Rams since the team drafted him back in 2010, so Saturday's win is satisfying on a number of levels.
"I always kept saying that I wanted to finish what I started over here," Saffold said. "Things happen for a reason. And I'm glad I'm able to do it here. This is the team that gave me a chance back in 2010, and here we are."