The Los Angeles Rams (2-0) face the Cleveland Browns (1-1) on Sunday Night Football in the first primetime game of the season for L.A.. Kickoff from FirstEnergy Stadium in Cleveland is set for 5:20 p.m. pacific time. Los Angeles is looking to improve to 15-3 in true road games and 8-0 against AFC opponents in the regular season under head coach Sean McVay.
To get you ready for the contest, theRams.com compiled a quick preview featuring players to watch, keys to victory for the Rams and what to watch for on offense and defense for both Los Angeles and Cleveland.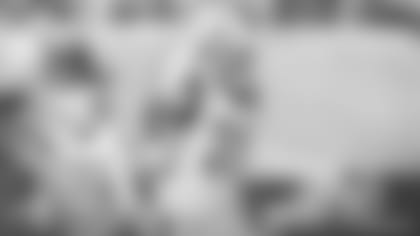 Rams CB Nickell Robey-Coleman: Browns receivers Odell Beckham Jr. will occasionally line up inside, too, which means Robey-Coleman could see one of the game's most important matchups come his way.
Rams WR Cooper Kupp: He showed off just out dangerous he was after the catch against the Saints and is now set to face a Browns defense that will be without it starting safety (Damarious Randall) and potentially two of its top cornerbacks in Denzel Ward and Greedy Williams. Kupp has the potential to have a big game on Sunday.
Browns WR Odell Beckham Jr.: Beckham looked like the playmaker NFL defenses have become accustomed to seeing over the weekend with an 89-yard touchdown against the Jets on Monday Night Football. Stopping him will be priority No. 1 for the Rams' defense.
Browns WR Jarvis Landry: One of the league's most consistent receivers since 2014, he should command a good amount of attention from the Rams' secondary.
Rams S Eric Weddle: L.A.'s primary defensive signal caller will be busy making sure the unit keeps track of Beckham, Landry, RB Nick Chubb and QB Baker Mayfield.
While Kupp was spotlighted in five players to watch, it's possible any of Los Angeles' top three receivers could be in for a big night given the injuries Cleveland's secondary is dealing with.
Randall is out with a concussion, while Ward and Williams are questionable due to hamstring injuries. When healthy, that trio helped the Browns allow the fifth-fewest passing yards per game through the first two weeks of the season. If Ward and Williams are unavailable, it would be a huge hit to the Browns defense.
On offense for the Browns
Much of the focus has been on those catching the passes, but equal attention should be given to the player making the throws in QB Baker Mayfield.
Mayfield's ability to execute off-schedule plays makes him tough for opposing teams to defend. However, that same improvisation can also result in mistakes. He's thrown four interceptions through Cleveland's first two games, including three in the season opener against Tennessee.
Also keep an eye on Demetrius Harris, who is slated to start at tight end in place of the injured David Njoku (concussion/wrist), and Chubb.
DT Aaron Donald lined up at multiple positions along the offensive line against the Saints, and it wouldn't be surprising to see again vs. the the Browns on Sunday. It will be interesting to see where he lines up the most and how that opens up opportunities for other Rams defensive linemen.
On defense for the Browns
Mainly the availability of Ward and Williams. With Cleveland is already down its starting safety, its secondary as a whole will be worth watching given its injury situation.
Air it out: Again, depending on whether Ward and Williams play, the passing game could be a big advantage for the Rams against a banged-up Browns secondary.
Limit big plays in the passing game: It goes back to Beckham and Landry's abilities. One explosive play from either receiver could change the momentum in an instant.
Establish the run game: If Ward and Williams are healthy, the Browns' defense will look closer to the team that ranks No. 5 in pass defense. That places extra importance on a balanced offensive attack and a steady ground game.