K Greg Zuerlein has been sidelined with a groin injury, but Los Angeles has controlled the game to take a 19-0 led into halftime.
Here are a few notes from the first 30 minutes of action.
TOUGH SLEDDING, UNTIL IT'S NOT
The Rams had to throw in order to open up the run early on during Sunday's contest, as running back Todd Gurley had six carries for -1 yards during the first quarter.
But as Los Angeles' possession continued, the dam begin to break with quarterback Jared Goff continuing to hit his receivers. L.A. had consecutive gains of 19 and 20 yards on receptions by wide receivers Robert Woods and Brandin Cooks, respectively.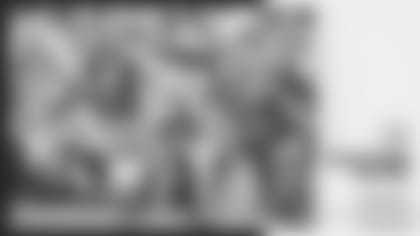 Having advanced deeper into the red zone a play later, Goff handed off to Gurley on the right side and the 2017 AP Offensive Player of the Year burst around the edge for an 11-yard touchdown for Los Angeles' first points of the day.
Kicker Greg Zuerlein had to depart Sunday's game before making his first appearance on the field with a groin injury. That's significant, as it forces punter Johnny Hekker into kicking duty.
Additionally, the Rams successfully elected to go for two following Gurley's first touchdown of the game, handing it off to the running back to take an 8-0 lead.
Later in the second quarter, Hekker attempted the first field goal of his career — sending the pigskin 20 yards through the uprights to give L.A. a 11-0 lead. Wide receiver Cooper Kupp served as the holder for Jake McQuaide's long snap.
With All-Pro returner Pharoh Cooper on injured reserve, Los Angeles brought back JoJo Natson — who returned both kicks and punts for the club during the preseason. And with special teams coordinator John Fassel's instruction, Natson was plenty effective during the first half.
He first had a 17-yard return up the sideline to set up Los Angeles' first scoring drive at the Arizona 46. And then he broke off a 60-yard return up the left sideline later in the second quarter to give the Rams a chance at more points.
While Los Angeles' special teams units have been hit hard by injury so far in the first two weeks, credit Fassel for keeping the unit up and humming.
Defensive tackle Aaron Donald tied a franchise record with his first tackle of the day. On 1st-and-10 from the Arizona seven, Donald made his way into the backfield to bring down running back David Johnson for a two-yard loss.
The tackle for loss was the 72nd of Donald's career, tying him with former defensive end Chris Long for No. 1 on the all-time franchise list.