NEW ORLEANS — The Rams and Saints are halfway through the final preseason contest. Here are a few notes from the first 30 minutes of action.
Running back Nick Holley got the offense going early with a few nice runs on Los Angeles' first offensive possession.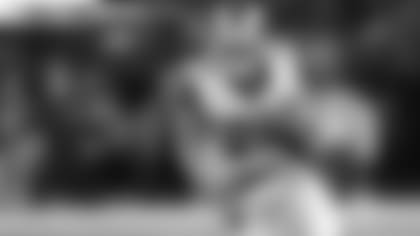 Holley rushed five times for 28 yards on that first drive, including a 16-yard run down the left side. On 3rd-and-1 from the New Orleans 34, Holley bounced a handoff outside the end of the line, darting down the field for the big gain.
Los Angeles, however, was unable to capitalize on the scoring opportunity, as quarterback Brandon Allen threw an interception to New Orleans linebacker Alex Anzalone.
New Orleans seemed to be playing with a bit of a "YOLO" mentality in the first half, and it worked out in the Rams favor.
First the Saints elected to go for two after scoring their first touchdown, but with good coverage on the right side quarterback Taysom Hill's pass was high and incomplete.
The New Orleans decided to go for it on 4th-and-1 at the Los Angeles 20 with a fullback dive. The Rams were there to stuff the play for no gain, however, causing a turnover on downs. Linebackers Trevon Young and Micah Kiser were credited for making the play.
On 4th-and-5 from the Los Angeles 37 midway through the second quarter, New Orleans elected to go for it again. But this time, the Saints got it with Hill scrambling up the middle for an 18-yard gain.
The Saints would score a touchdown to cap that drive, but the Rams once again stopped a two-point conversion attempt by tackling ball carrier Jonathan Williams in the backfield for a loss.