DL Ethan Westbrooks recorded a pair of sacks in the first half, and RB Justin Davis provided a spark on offense with his carries.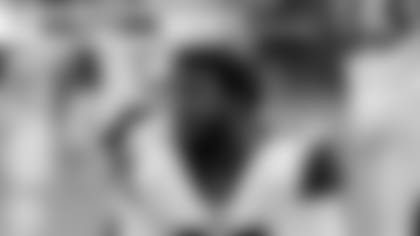 BALTIMORE — The Rams elected to rest the vast majority of their starters for the first preseason contest against the Ravens on Thursday evening, and are behind to the Ravens 23-0. Here are a few notes from the first half of action.
Baltimore's offense scored on its first two drives, looking fairly efficient along the way. With Los Angeles resting all but one of its defensive starters — outside linebacker Samson Ebukam was the only one on the field — quarterback Joe Flacco engineered a touchdown drive on the home team's first possession. Flacco went 5-of-7 for 71 yards and a TD. L.A. had a chance to get off the field on third down in the red zone, but a defensive hands to the face penalty gave Baltimore a first down. Flacco tossed a swing pass to fullback Patrick Ricard on the right side for the scoring-strike on the next play.
Then quarterback Lamar Jackson showed the same impressive elusiveness he often demonstrated at Louisville. On his first drive, Jackson escaped a collapsing pocket, broke a few ankles, and scrambled for nine yards into the end zone for a touchdown.
Los Angeles recorded its first sack of the preseason early on in the second quarter, when defensive lineman Ethan Westbrooks came up the middle and took down Jackson. Rookie outside linebacker Justin Lawler also got in there to help on the quarterback takedown.
Westbrooks kept it going on Baltimore's next drive, again sacking Jackson on third down to end a drive. On that play, inside linebacker Bryce Hager was there to clean it up and ensure Jackson went down. Westbrooks has been playing a lot of three-technique on the defensive line during 2018 training camp.
Los Angeles had a tough time getting anything going offensively for much of the first half. But second-year running back Justin Davis provided a bit of a spark with his carries.
Davis began a second-quarter drive with a 17-yard run. That was, at the time, the longest play of the day for the Rams. Davis' seven first-half carries went for 41 yards.
The Rams were called for two "lowering the helmet to initiate contact" fouls on consecutive plays in the first quarter.
Playing with the new rule for the first time, safety Marqui Christian was called for the penalty while trying to make a tackle on running back Gus Edwards. The next snap, safety Blake Countess was called for the same while making a tackle on wide receiver Jamarion Grant.
Countess would leave the contest following the play, walking off the field with trainers. There was no injury update on his status during the first half.