THOUSAND OAKS, Calif. – With two years in the NFL under his belt, Rams offensive lineman Jamil Demby sought out ways to productively spend his second offseason as a pro.
One of his solutions: Attend the NFL Players Association's (NFLPA) #AthleteAnd workshop Feb. 11 in Washington D.C.
"Going into my second offseason, I've noticed we've had, from being a college athlete to an NFL athlete, more time to get your hands into different things in the offseason, so I wanted to use that time wisely," Demby told theRams.com last week. "Not just working out, working on my body, things of that nature, but also to work on my life off the field and bridge that gap."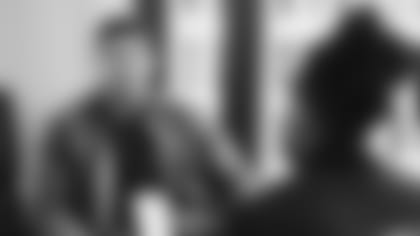 Demby was one of more than 40 active and former NFL players who attended the second annual day-long event, which aims to show participants how they can leverage their playing careers into professional growth opportunities for life after football.
Besides current and former NFL players, the workshop also featured sports union officials from the MLBPA, MLSPA, NBPA and NHLPA engaging with professionals from various industries and NFLPA Executive Director DeMaurice Smith through roundtable discussions, interactive learning labs and more, according to a press release from the NFLPA.
"One of the messages we impress upon our player members is that they are more than just athletes and they have the power to shift the narrative by telling their story," NFLPA Senior Player Manager Dior Ginyard said in the release. "The #AthleteAnd Workshop is another way for them to gain confidence to define their identities beyond sports so that they can write their own endings to the phrase 'Athlete And _.'"
Ginyard was the one who brought the workshop to Demby's attention and got him thinking about how he could fill in that blank. That thought process was aided further by two impactful panel discussions, one led by Jameel McClain and another by Chase Minnifield.
McClain and Minnifield both transitioned successfully into life after football as former players turned entrepreneurs.
McClain, who played seven NFL seasons from 2008-14, is now the Baltimore Ravens' director of player engagement and also serves as the CEO of 53 Families Foundation, Inc., whose mission is to help youth be successful by assisting in providing basic needs such as shelter, food and clothing.
Minnifield, meanwhile, is a former defensive back for the Washington Redskins and now the CEO of Helping Hand L.L.C., which provides managers in the student housing industry with security services, commercial cleaning, commercial painting and waste management services. Minnifield is also president of EZ Turn, a mobile app designed to create a more efficient experience for property staff, vendors and students when student housing turns over.
"They talked about how they transitioned from football to business, and all the different little things that you might not even think they had to go through, the different people they had to deal with," Demby said. "It was great information. It motivated me a lot to use my platform to do bigger things."
He also got a lot of value out of hearing from former players who successfully moved into media careers after football. That panel discussion featured insight from former Super Bowl champion Spencer Paysinger, currently the producer of the CW TV show "All American," and Cameron Lynch, who recently served as a color analyst on the March 2 radio broadcast for the XFL's Tampa Bay Vipers.
"Just really opened my eyes to a lot of things," Demby said.
Taking that information back with him to Los Angeles, Demby already has some ideas for ways he can use his platform to set up his career after football while he's still playing.
"My biggest passion, and I think I had to re-discover myself about this passion, is making the world a better place," Demby said. "Real estate, motivational speaking, clothing, all of those can tie into a message that can make the world a better place and bring people together. Whether it's making neighborhoods I have back home better, motivational speaking, having camps and kids getting free shirts and my brother having his message, which is SST, survive, strive and thrive, (on it). All those things can tie into making the world a better place."