Each week, I interview a different Rams player to find out about their lives on the field as well as off it. This week, kicker Matt Gay talks about being a jacked kicker, a monster on Twitter and one day training with Aaron Donald.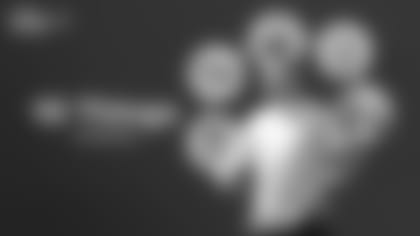 1: "Kicker's jacked, man."
Sarina: You joined the Rams halfway through the season and I remember after your first game against the Buccaneers, Sean McVay ended his presser by saying you look like you train with Aaron Donald. "Kicker's jacked, man." How do you see yourself in comparison to other kickers? And have you ever trained with Aaron Donald?
Matt: I definitely feel like I am bigger than the typical kicker, but that typical kicker has changed a lot in recent years I feel like. And no, I never have trained with AD, but I'm hoping to soon!
Sarina: What is a misconception about kickers that can help fans understand the art of kicking better?
Matt: That it's easy! (laughs). So much of kicking is just confidence! And it really is an art, something that has to be continually perfected. It's a game of inches. If you're an inch off in the beginning, you could be feet or yards off in the end.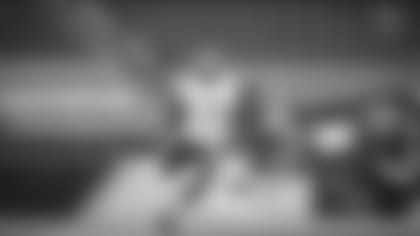 Sarina: You are a family man! I saw you guys just took your first family vacation with your son! Congrats. Where did you go and what did you love most about the trip? And you have another one on the way!? 
Matt: We went to Arizona and spent some time at the resort! Just loved being able to spend time with the family and enjoy playing with my son! And yes, second on the way! Another boy!  
Sarina: What stands out to you about this Rams team heading into a new season? 
Matt: The talent and pieces on paper are all there. Just a team of dawgs.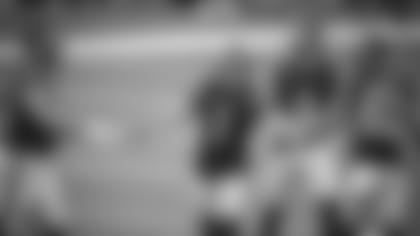 Sarina: mgtweetymonster is a funny IG name. Anything behind that? 
Matt: Haha, when I made my Twitter like 10 years ago, I just thought you tweet on Twitter, and I wanted to tweet a lot so tweetymonster came to life! And MG, my initials, so I threw it on there.  
Matt:No, I never quite did in California. Wings are a tough food to get for takeout I feel, and that's all you could do last year. I am a traditional Buffalo kinda guy!
Sarina: What is the best name you've heard for a fantasy football team, or do you have any recommendations? 
Matt: I got nothing for this hahah never played fantasy football! 
Sarina:Your wife is British! What is your favorite thing to order at a pub when you guys cross the pond? 
Matt:A full English breakfast for sure! And sticky toffee pudding at a pub! But my favorite food, in general, over there is Indian food!
Sarina:Is Ted Lasso your favorite show on TV?  
Matt: It was definitely up there! Just a feel-good tv show to throw on, need more seasons!  
10: Field and non-field goals 
Sarina:Goal for 2021? Personal or professional or both? 
Matt:Welcome my new son into the world healthy, and his mum healthy too! And to be able to make my kicks and help this team win and win a Super Bowl!