When the Rams acquired wide receiver Brandin Cooks in early April last spring, they knew he was a talented player.
After all, he had just finished his third season in a row reaching 1,000 yards receiving with at least seven touchdowns. And it once again took a first-round pick to acquire him — as it had the year before when New England brought him over from New Orleans.
But less than a calendar year before, the Rams had traded a second-round pick to the Bills for Sammy Watkins. Then Watkins signed with the Chiefs in free agency.
When L.A. acquired Cooks, he was on the last year of his rookie deal — meaning he was slated to become an unrestricted free agent in March of 2019. But the Rams didn't let that happen, signing the Oregon State product to a five-year contract extension on July 17 to ensure he'd be with the club for years to come.
And that was before Cooks had even taken a training camp rep in Los Angeles offense.
"Not playing a snap here, it just makes me want to go that much harder to [validate] their belief in me the way that they do," Cooks told therams.com back on July 17. "To be able to get this done before taking a snap in a game shows me a lot, and makes me more motivated to just go out there and be the best I can possibly be and be grateful to my teammates."
Recording a career-high 1,204 yards receiving with five touchdowns, Cooks is clearly off to a fine start in that endeavor. He and Robert Woods combined to become the first Rams receiving duo to each have at least 1,000 yards since Isaac Bruce and Torry Holt back in 2006.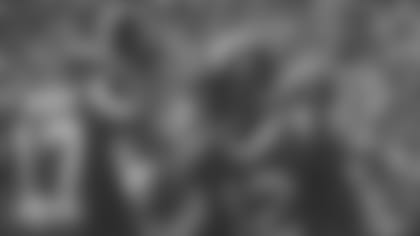 But more than that, he's helped stabilize the Rams' wide receiver position — a group that's in strong position to keep getting better and growing with quarterback Jared Goff over the next couple seasons.
With Cooks' extension, he's signed through the 2023 season. Woods is signed through the 2021 season. And 2017 draft picks Cooper Kupp and Josh Reynolds are also under contract through 2020.
Given the continuity on the offensive unit — both with players and coaching personnel — it stands to reason that Cooks and the rest of the Rams receivers unit should continue to improve in 2019 and beyond.