Leading up to the 2015 NFL Draft, Syracuse University's Cam Lynch did some scouting of his own. If the linebacker wasn't chosen, he wanted to be prepared for the possibility of free agency. But what he wasn't prepared for was being in his cell phone's dead zone at a very inopportune time.
"I had a whole list of teams that had five to seven linebackers on their roster. So step one was that they had availability when it came to the linebacker room," Lynch said. "And the funny thing that happened right after the draft finished, I was looking at my spreadsheet of the teams that I wanted to go to, and for some reason my service was not working. I don't know if somebody called. Then my agent sent me a message that said, 'The Rams are looking to move forward.'
"And then he gave me a call that went through, 'You've got to decide pretty soon here. The Rams want you. It's a great situation there.' Yeah, I had to move forward, and I'm glad their call got through and I ended up a St. Louis Ram."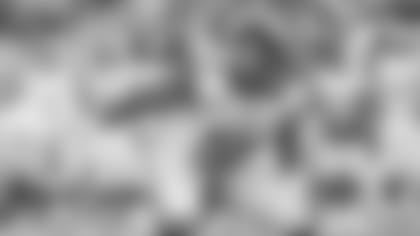 Lynch benefited from being shown the ropes by veterans James Laurinaitis and Alec Ogletree during his rookie training camp. And from when history caught up with him, as well.
"Jo-Lonn Dunbar, his mom actually worked at Syracuse University. And she had a Boston College shirt on. They're not our rivals, but we always had problems with Boston College. Why is she wearing this shirt in our facility? And so we talked about it a little bit," Lynch said.
"Fast forward to when I get to the Rams, Jo-Lonn knew I was from Syracuse, and he said, 'Hey, do you know a lady that works there that wore a Boston College shirt? That's my mom,'" Lynch said. "And so it's a very small world because I believe I opened the door for her or something like that. He said, 'My mom remembers you and she told me you treated her well. And since you treated her well, anything you need, let me know.'
"So just to take away from that, in regards to people who put me under their wing and led the way, is that you never know. Treating people well is important because you never know where it's going to pay off in the future."
The future was now for Lynch. As a backup linebacker and playing on special teams, his goal was to not only make the team, but to stay on it. He was successful, and along with Bryce Hager, were the only rookies on defense to play in every game.
"(Special teams coach) John Fassel told me, 'You know, making the NFL as an undersized linebacker is definitely hard to do, but it's even harder staying in the NFL,'" Lynch said. "And so my mindset really was focus on the concept of you can't make the club in the (ice) tub.
"I made sure that I was healthy. I made sure that I stretched before and after every workout, every practice, and made sure that I was available. I realized that a lot of people were dropped because of injuries. If you're undrafted and you get injured, a lot of times they look at that as quote, unquote, damaged goods. So I made sure that I was available at all times."
Raised in Los Angeles, the Rams had already headed east when Lynch was a kid. Of course, he was happy that he and the team would come together. But he was also happy where they initially came together.
"Starting my NFL career off in St. Louis was probably the best thing that happened to me because of the taste of the city, great food, great people," Lynch said. "The biggest things that's going on is probably the movie theaters and the casino there, Ameristar. And so I was able to focus and really take my career off to a strong start being in St. Louis."
After spending the 2016 season with Tampa Bay, Lynch headed home when he returned to the Rams, who were in their second season back in Los Angeles.
"Playing in the Coliseum. Playing in front of my hometown crowd. That's the things I dreamed of as a young child," Lynch said. "I went to Syracuse University in upstate New York, so family members weren't able to really go to a lot of my games. But being in Los Angeles and playing for the Rams there had that major benefit. And I'm forever grateful for it."
With the Rams for two seasons, Lynch's fondest memory occurred in 2017 when they hosted the San Francisco 49ers in the season finale.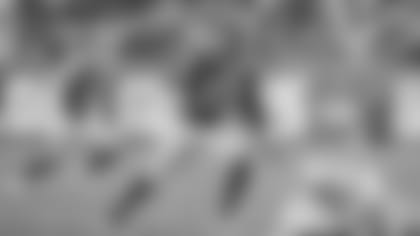 "A lot of times when you're undrafted, it's usually special teams most of the time. And so what I really enjoyed was that actual moment playing against the 49ers and getting linebacker reps after playing special teams for so long," Lynch said.
"And then next, would be the first time on (HBO and NFL Films') Hard Knocks. It was very stressful, very eye opening. But what I do believe is, going on Hard Knocks and being able to share my story, it was a great marketing tool for on and off the field. That really sparked my passion for media as well as broadcast journalism."
Lynch acted on that passion and founded Heart Work Media, a digital media production company. "We help clients tell their stories," he said. "It was really modeled and inspired from (LeBron James' SpringHill Company's) Uninterrupted, on a broad-based platform. An athlete can get his chance to tell his story and mold his story. And so that was my whole mission statement really, just to be able to create and share stories and have people own those stories."
Two years ago, Lynch made the decision to work on his own story, and earned an MBA from the University of South Florida.
"What I realized while in college is, hey, Cam, you can follow this parallel career path. You're an engineering major, but I realized there's life outside of football," Lynch said. "And so while I was actually playing, I started my media company. But I started my business and realized I didn't have the business playbook.
"I knew the terminology, but I didn't know how to execute and apply the terminology effectively when it comes to getting clients, even speaking to a lawyer or a finance person and so on. And so I went and got my MBA to understand what the corporate playbook looks like."
Making his home in Los Angeles and newly engaged to Erinique Owens, Lynch is also involved with the Visa Champions Program. It allows him to work in different parts of the organization, such as Business Solutions for six to eight months before moving on to a different division. He's currently in Visa's Sponsorship Marketing Group.
"Visa is a partner with the NFL, and so we're pretty much an account executive at Visa for the NFL. And what's cool about that is, I'm able to serve the game in a different way. I don't have to tackle anybody. I don't have to run into any 300-pound linemen," Lynch said with a laugh.
"Some of the projects that we're working on are amplifying My Cause My Cleats. Visa's able to add marketing dollars and bring attention to the program to increase the donations to these player's causes. And so it's really awesome to be able to serve the game in a different capacity now that I'm retired (as a player)."