INGLEWOOD, Calif. –– Don't raise the roof – look through it.  
When Rams fans glance up from their seats in the team's future home this fall, they will see a uniquely-shaped translucent canopy covering the playing field and everything surrounding it. 
"The ETFE foil is not used everywhere in the world, (but) it is becoming more popular," Tawa Sulaiman, Roof Structure Superintendent, Turner AECOM-Hunt Join Venture, said at a Jan. 22 media event.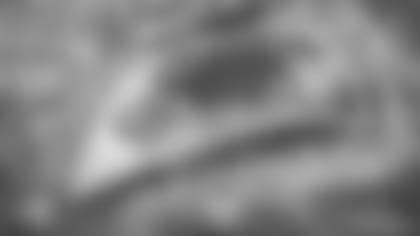 ETFE – or Ethylene Tetrafluoroethylene – is a creative and lightweight alternative to glass with a high corrosion resistance and ability to withstand a wide range of temperatures. According to structureflex.com, ETFE is ideal for outdoor-indoor spaces, which is exactly how SoFi Stadium was designed.  
The roof is supported by a double cable-net system which is the largest cable net system in the world. The 1,450-ton, 75,000-foot long cable net system was completed in October 2019.  
"The cables that the ETFE sits on that come from Germany, that's also a very unique system that's not used everywhere in the world," Sulaiman said. 
The cables' final position will make a double-convex, in turn creating a slope-shaped roof.  
Broken down further, the ETFE roof is comprised of 302 unique picture frames, held down by picture frame clamps. More than 120 of those frames have been installed as of Jan. 22, each varying between 30,000 to 70,000 pounds in weight depending on the type.  
According to Dan Schmitt, senior project manager, roof structure, 65 percent of the ETFE membrane is a dotted reflective frit pattern and 35 percent transparent. 
While the frit pattern isn't noticeable given the distance between the roof and the seats, the EFTE membrane itself has enough transparency for fans to see planes flying over the stadium.  
When all 302 are in place, 46 of them will have the ability to be controlled to be open/closed while the remaining 256 are permanently fixed.  
The 46 controllable panels are built such that half of the panel opens up and slides over onto the other half of the panel, creating the opening. It's a useful feature for hot gamedays. 
"It's mostly for comfort," Sulaiman said of those capabilities as they relate to the fan experience.  
Altogether, the roof will canvas approximately one million square feet.  
Just don't admire it too long, though, because you don't want to miss the on-field action either.