INGLEWOOD, Calif. – For Riverside native Eli Kenan, seeing and physically sitting in his seat at SoFi Stadium carries extra significance. 
A die-hard Rams fan since the first time they were in Los Angeles, Kenan has always lived around the city. He said it was "one of the best days I've had in a long time" when he found out they came back to L.A. 
Now, he'll get to be part of the Rams' next phase in the city. 
"To be able to actually get a season ticket, watch them on home turf and be a part of this new chapter is super exciting for me," Kenan said. 
Kenan joined several Rams stadium seat license (SSL) holders who were randomly selected – only a handful of seats are currently in place in the building – to get their first look at their seats in SoFi Stadium on Nov. 5.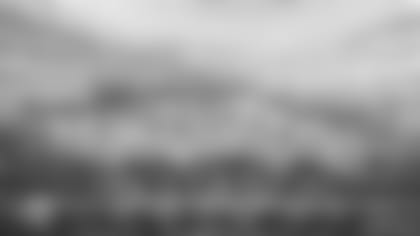 Kenan joined several Rams stadium seat license (SSL) holders who were randomly selected – only a handful of seats are currently in place in the building – to get their first look at their seats in SoFi Stadium Tuesday afternoon. 
Upon arriving at those seats – designated by blue ribbons – they were greeted by clear swag bags which included signed mini helmets, Rams sunglasses, silicone bracelets, Rams House rally towels, Rams "fans" (fans in the shape of the team's throwback helmet), flags and season ticket member license plate frames. They also got to keep the hardhats worn in the picture above and had the chance to talk with Rams Chief Operating Officer Kevin Demoff. 
Besides Kenan, Aaron and Dawn Drootin of Temecula were also on hand to check out their seats at the Rams' future home. 
"Words can't describe how awesome this place is, how surreal it feels to actually be here, finally," Aaron said. "I'm ready for kickoff. Let's get this going." 
In addition to checking out their seats, SSL holders also got to see the Rams' locker room and take in a view of the stadium from the eighth level of the construction site. Multiple features caught their eyes along the way. 
For Kenan and Jonathan Nahin of Palos Verdes, the most attention-grabbing features were both the Oculus videoboard – which was beginning to be assembled before them – and what sat directly below them. 
"We have a bar right beneath our feet," Kenan said. "So that's awesome." 
"We have yet to see it," Nahin added. "But for me, probably the screen that's coming in. This is only a quarter of it, and it's going to go all the way around up top. That's pretty crazy." 
The sheer size of the stadium itself stands out, too. 
"It's awesome," Kenan said. "We've seen the renderings, but the renderings can't do it justice. It's massive. It's bigger than any other stadium than I think I've been in." 
The Drootins like the surprisingly intimate feel within the cavernous venue, and they're excited to get to know their fellow SSL holders. 
"I'm in awe, and it takes a lot," Aaron said. "We've been to stadiums all throughout the country, and this one by far looks like it will be the best one ever." 
For Kenan, season tickets are about extending his family's legacy as Rams fans. 
"It's a nice connection to my past," Kenan said. "My dad sent me a picture of him and his dad with a date stamp of 1972 wearing Rams gear. Just to be able to perpetuate that, and most recently, take my nephew, who's four, to training camp every year. It's cool keeping up that legacy and watching it re-blossom in Southern California." 
Monterey native Ahmed Hamade began following the team when it was in St. Louis and is excited to continue doing so here in Los Angeles.
"They weren't the best team, and watching them progress and really live that Rams name up to its fullest potential is really cool," Hamade said. 
Up until this month, the Drootins, Nahin, Kenan, Hamade and other SSL holders only had artist renderings and social media updates as a basis for following the stadium's progress and what to expect. 
Now? SoFi Stadium is approximately 80 percent complete as of Nov. 5. Its first event will be hosting a Taylor Swift concert on July 25 and 26, 2020, followed by Kenny Chesney on August 1, 2020. 
After that, it's countdown to kickoff in Inglewood. 
"The general vibe and the feel here, it's going to be exciting," Aaron said. 
Seats for the new stadium are still available for purchase. Fans may check out www.sofiseats.com/rams for more information about seating products and to book an appointment with a stadium sales representative.