Practice Schedule
Friday, 7/29: 12:30 p.m. - 3 p.m., gates open 11 a.m. (Opening Day; Giveaways: 2022 schedule magnets and Jack in the Box coupons Performances by Rams Cheerleaders & Mariachi Rams; Photo and autograph opportunities with Rams Legends)
Saturday, 7/30: 12:30 p.m. - 3 p.m., gates open 11 a.m. (Back Together Saturday and Season Ticket Member Appreciation Day; STM Exclusive Giveaway - Season Ticket Member license plate frames; Giveaway - Rams jersey rally towels; On-stage entertainment featuring Cheerleaders & special guests)
Sunday, 7/31: 12:30 p.m. - 2 p.m., gates open 11 a.m. (Vamos Rams Day; Giveaway: Vamos Rams car flags sponsored by Toyota; Performances by Mariachi Rams, DJ Promote and Cheerleaders; Photo and autograph opportunities with Rams Legends)
Monday, 8/1: 12:30 p.m. - 3 p.m., gates open 11:30 a.m. (Giveaway - Rams cooling towels; Rams Legends to be available for photos and autographs; DJ AyeJaye to perform in fan activation zone)
Wednesday, 8/3: 12:30 p.m. - 3 p.m., gates open 11:30 a.m. (Military & First Responders Appreciation Day; Military and First Responder Giveaway - Challenge Coins; Giveaway: Rams Poster; Legends to be available for photos and autographs; Performance by DJ Bobito in fan activation zone)
Thursday, 8/4: 12:30 p.m. - 3 p.m., gates open 11:30 a.m. (Youth Day; Giveaway - Rams head bands and arm bands; Rams Cheer Clinic to take place in fan activation zone; Free co-ed football clinic to take place on fields after practice)
Friday, 8/5: 12:30 p.m. - 2 p.m., gates open 11 a.m. (Inspire Change & Celebrity Flag Football Game; Donor Giveaway - Inspire Change lapel pins; Giveaway - Rams Poster; Second Annual Celebrity Flag Football Game to take place on-field following practice; Legends to be available for photos and autographs)
Saturday, 8/6: 12:30 p.m. - 3 p.m.; gates open 11:30 a.m. (Family Day & Legends Reunion; Giveaway - Cooling towels; Onstage panel discussion with Legends; Rams alumni to be available for photos and autographs)
Monday, 8/8: 12:30 p.m. - 3 p.m.; gates open 11:30 a.m. (Giveaway - Rams Legends Poster; Photos and autographs with Rams Legends)
Tuesday, 8/9: 12:30 p.m. - 3 p.m.; gates open 11:30 a.m. (Giveaway - Rams Poster; Photos and autographs with Rams Legends)
Wednesday, 8/10: 12:30 p.m. - 2 p.m. (Countdown to Kickoff; Giveaway - 2022 schedule magnets; Performance by Cheerleaders; Rams Legends to be available for photos and autographs)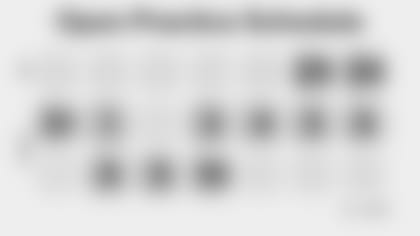 Fans must have an autograph Rams wristband for the corresponding date in order to enter the autograph line. Wristbands can be won at the Prize Wheel in the Family Zone. Autographs are for children between the ages of 5 and 14 ONLY and to accommodate as many children as possible, one autographed item per child is permitted.
Posed photos are not allowed
Table inside Article

| Date | Player Autographs | Legends Autographs |
| --- | --- | --- |
| Friday, 7/29 | Running Backs/Specialists | Lucious Smith, Andrew Whitworth |
| Saturday, 7/30 | Quarterbacks/Tight Ends | Mike Lansford, Rod Perry |
| Sunday, 7/31 | Wide Receivers | Roland Williams, Frank Corral |
| Monday, 8/1 | Offensive Rookies – Running Backs, Wide Receivers, Tight Ends, Offensive Line | LeRoy Irvin, Joe Sweet |
| Wednesday, 8/3 | Defensive Rookies – Defensive Tackles, Linebackers, Cornerbacks, Safeties | Mickey Sutton |
| Thursday, 8/4 | Defensive Line/Safeties | George Andrews, Harold Jackson |
| Friday, 8/5 | Offensive Line | Todd Lyght |
| Saturday, 8/6 | Linebackers | Frank Corral, Ivory Sully, Tyoka Jackson, Wendell Tyler, Jim Everett |
| Monday, 8/8 | Cornerbacks | Fred Dryer |
| Tuesday, 8/9 | Offensive Rookies | Greg Bell, Rosie Grier |
| Wednesday, 8/10 | Defensive Rookies | Roland Williams |
How to Attend
All fans must have a valid ticket to attend all Rams practices at UC Irvine. Fans are encouraged to attend as many days of Training Camp as they like; however, they will need to register individually for each day they would like to attend. Fans may claim up to four (4) Adult and up to four (4) Youth tickets per registration. Note: Claiming a ticket online does not guarantee admission into Training Camp; admittance into Training Camp will be on a first-come first-serve basis.
Download the Rams mobile app
Read up on all the latest Rams news and view exclusive behind-the-scenes content by downloading the Rams App in the App Store or Google Play.
Rams Podcasts
Making the drive to UC Irvine? Spend your trip catching up on recent episodes of official Rams podcasts like Rams Iconic with Rams Legend and Analyst D'Marco Farr, and Rams Revealed with Voice of the Rams J.B. Long.
Get Caught Up
Early training camp news and press conferences: