University of Pittsburgh product and two-time AP Defensive Player of the Year, defensive tackle Aaron Donald made news off the field just before returning to Los Angeles for the start of the Rams offseason program.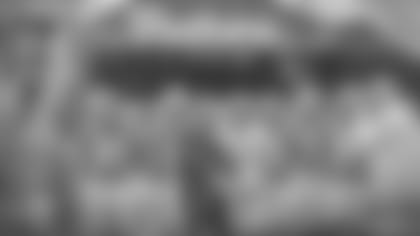 Donald made an unprecedented seven-figure pledge to Pitt Football's Championship Fund, the program announced last week. It was a gesture that Donald said was made possible after signing one of the most lucrative defensive contracts in NFL history last August.
"It was something that we talked about the prior year, but we were just waiting for the right situation when things were done and I was able to do that," Donald said. "I'm grateful to do that, give back to the university where I went."
Donald's donation will be put toward facility improvement, recruiting, technology, and student-athlete development back at the alma mater — which should directly benefit Donald who frequently trains on campus — in addition to athletes for years to come.
Additionally, Donald's name will now grace the school's football performance center. It's recognition that even one of the most accomplished athletes in Pitt's history couldn't envision.
"They showed me and I almost cried, like you are going to put my name on that building? It's more of a dream come true," Donald said. "You're just not helping somebody, you're helping the university, the future football players, you're leaving a legacy behind that's going to be there forever, so it's surreal."