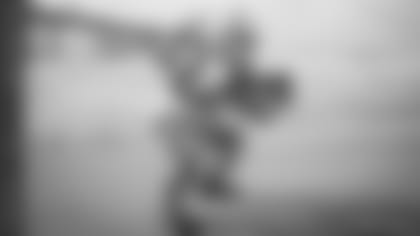 There's one common theme throughout the stories of Rams fans – family.
Art "Rambro" Martinez is no different.
Martinez was a season ticket holder from 1979 to 1994 when the Rams were playing at Anaheim Stadium.
"During that time, I used to take my two daughters who were 2 and 6. Now they are 28 and 32 attending games at the Coliseum and (hopefully soon!) So-Fi Stadium."
Before having season tickets in Anaheim, Martinez grew up with his uncle taking him to see the Rams play at the Coliseum.
"It is my childhood. I get a great sense of pride going to games and watching the away games on TV and spending precious time with my family and my Ram family."
"I get a great sense of pride going to games."
While 2020 wasn't the inaugural season at SoFi Stadium he'd imagined, Martinez is still able to be with his family on gamedays watching from home.
"Once we are able to attend games at SoFi Stadium, I will be with the Rambros, which are my two daughters, two brothers, sister, two uncles and five friends."
Martinez formed the Rambros in 1989, the union of this Ramily led to the formation of their own gameday traditions.
"Every game I dress up in my Rambro attire and proudly wear my Rambroflage gear! But most of all, tailgating. The Rambros are definitely an NFL tailgate experience."
It's an experience that he's been able to bring home, too.
"I have a Rams/Rambro room that displays many autographed photos of past players dating back to the 60s,70s,80s & 90s."
The room is, of course, painted blue and yellow in honor of the Rams.
And on away games, all of his Rams tailgating props are moved into the front yard of his house.
"I display Whose House this is!"
"I display Whose House this is!"
Martinez is more than ready to be at the real #RamsHouse.
"Since their return, I've had season tickets all 4 years at the Coliseum and just waiting to christen the new SoFi Stadium."