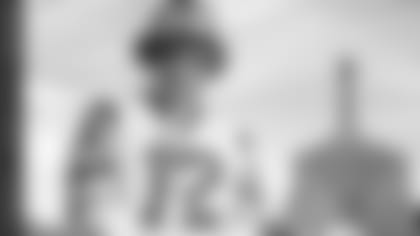 Michael Stringer was born and raised in Los Angeles.
Minutes away from USC and Exposition Park on 36th Street and Budlong.
Minutes away from the Rams on Sundays, which Stringer wouldn't appreciate until later.  
"In August of 1970, I was eight years old and going on nine in December. I watched a preseason game with my dad, his brother and a few of my dad's friends. The Rams were playing the Oakland Raiders at the Memorial Coliseum. I liked the Raiders colors and was rooting for them. The Raiders won. My dad told me to never go against the home team. Told me the Rams were our home team. That's when I became a fan after that preseason game."
Stringer attended his first Rams home game at the Coliseum in 1974.
"They played the Detroit Lions. I was hooked after that. Just seeing a game live and in person was exciting. That 1974 season, I went to other home games. I could get an east endzone ticket for $2.00. Plus, I still have my Lions-Rams ticket stub to this very day! Thanks to my mom who saved one of my scrapbooks."
"I was hooked after that."
Since the Lions game, Stringer went to as many home games from 1974 to the 1980s in Anaheim, and back to playoff games at the Coliseum. 
"I'm glad they are back where they belong. Right here in Los Angeles."
Stringer's gameday ritual is simple. 
"When the Rams play at home, I wear my home jersey. When the Rams play on the road, I wear my road jersey. Now, I will buy the new home and road jerseys. I will get the Aaron Donald in blue home and the Jalen Ramsey in road bone. Gotta rock my jerseys."
He also rocks Rams FM-AM headphones from 1973.
"They still work, and I wear them to the home games and listen to the play-by-play ESPN AM channel." 
Stringer mostly goes to games with his cousins and friends. Even if they don't have a seat in his section, he makes sure they all meet up for tailgate parties. 
But like most Rams fans, Stringer is also sharing his passion with the next generation like the generation before did for him.
"My grandson is turning nine in June of 2021. The cycle has come full circle. My dad took me and my brothers to the 1976 preseason game against the new expansion Tampa Bay Buccaneers, their very first NFL game at the Coliseum. I will be taking my grandson to some games. I took him in 2019 against the Denver Broncos preseason game. He had a blast. He has to keep up his school grades up in order to attend a regular season game. That's our deal. My incentive for him."
"The cycle has come full circle."
Like his dad taught him in 1970, you never go against your hometown team and that mentality is one Stringer continues to carry.
"It's home city pride amongst family and friends. Winning breeds positivity, and that radiates throughout the city and county. We also lift each other up during the losing seasons or just a loss. Sometimes a loss is a win. Being a Rams fan is a religion. It's all about cheering our team on game day. Nothing else matters when the Rams play."
"Nothing else matters when the Rams play."