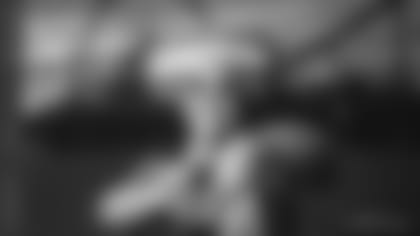 Lance Goldberg has been wearing a carved-out watermelon on his head to Rams games since 1982.
Don't worry, it's not the same melon.
Goldberg started this to encourage fans to be more involved at the games.
"I wanted to show the crowd that it's okay to be wild and fanatical, and that making some noise can actually help our team win!"
Soon, the watermelon began to inspire those around him.
"It's amazing how many people will follow your lead and yell their butts off when you have produce on your head!"
"Making some noise can actually help our team win!"
In 1984, a few of his friends decided to join the melon movement, thus the "Melon Patch" was born.
"We strategically had season seats right by the Rams tunnel so we could pump up the players as they came onto the field."
That's what the Melonheads are all about: creating as much energy, noise and passion for the players, coaches and fans to feed off of during the game.
"Kevin Greene actually put one of our watermelons on his head after a victorious game and ran into the tunnel and headed to the locker room…on TWO separate occasions!"
The rule, according to Goldberg, is anyone can wear a watermelon on their head once, but if you do it twice, you become an official Melonhead.
A current Ram, John Johnson, has also shown his love for the group.
"Besides being an all-pro talent, he has a great personality and supports the Melonheads. He once wore a Melonheads t-shirt on the field during pregame warm-ups at the Coliseum."
Not hard to see how Johnson earned the title as Goldberg's favorite current Ram.
Now, even Goldberg's daughter is in on the melon fun.
"I am known as 'Big Seed' and my eight-year-old daughter, Sofia, is 'Lil Seed.'"
As we play the final game of the regular season against the Cardinals, it's fitting to share how Goldberg became a Rams fan.
As a ten-year-old boy in 1975, Goldberg was watching the Los Angeles Rams play the St. Louis Cardinals in a playoff game in Miami.
Already enamored by the Rams helmets and jerseys, it was Jack Youngblood that secured the rest.
"As I was watching, Jack Youngblood tipped, then intercepted a pass and returned it for a touchdown. Right at that very moment, the Rams became MY team. Game over!"
Seven years later Goldberg would start wearing a carved-out watermelon on his head and the power of the Melonheads would come to life.
"The Rams became MY team. Game over!"