The first-ever Rams Scouting Apprenticeship began in March of 2020. The Rams hand-selected ten people of color, including two women. This series will cover each of the ten apprentices. This week, meet Cory Moore, head football coach at Lakewood High School in St. Petersburg, Florida.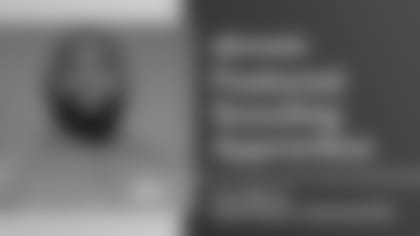 I've heard from multiple NFL players, "there's something in the water" when it comes to Florida football.
Coach Cory Moore has heard it too. He lives it. He drinks it. In his thirteenth year at Lakewood High School, he has coached 11 NFL players, including some familiar names like Dante Fowler, and Shaquill and Shaquem Griffin. Over the years, his players have exhibited why Florida players are said to be different.
"For example, you may take some of my guys that are bigger," Coach Moore explains about the players he's coached in Florida's NFL pipeline, "but a lot of time they're so agile because they play football, they play basketball, they play tennis, they're swimming, because it's so hot in the summer. So now they're getting that type of training, and don't even know that they're getting that type of training. They're going to the beach, playing at the beach, not even knowing that they're getting that type of training, working in the sand. And so, then you wind up having some monsters, like, wow."
But Coach Moore isn't just proud of the NFL players he's coached. When he speaks about his success, he also includes the 257 of his players who have gone to college. He mentions the eight of them who serve in the military, and the two who are firefighters.
"I've had numerous opportunities to go [coach] college [football]," Moore says, "but I felt at that time, that the groundwork is really in high school. Because really guys in college are just relying on moving off of the momentum that started in high school. What I'm really intrigued with is working on foundation. Prepare those guys so they can take that and move in the right direction, to the next level."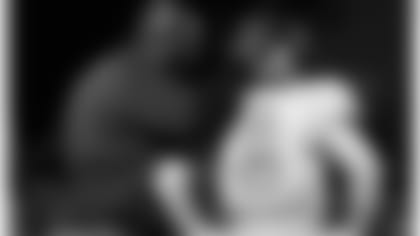 Since March, Coach Moore has been mentored by Taylor Morton, the Rams Senior Personnel Advisor. And since March, Moore is realizing his second calling, "that this is really what I want to do." When it comes to scouting and working with Morton in the Scouting Apprenticeship, Moore says he gets to ask "questions that an average person does not get to ask. You get a chance to see the grind, because a lot of people don't see the behind-the-scenes of the work."
Moore says most people "just see guys working on Sunday wear the logo. But they don't know that there's so much work that goes into it."
And he doesn't take the responsibility lightly either. Because in scouting, "you got a huge responsibility on a lot of levels. Number one, your evaluation on someone could either push them into their destiny or stop them to where they think they want to go."
"[Taylor Morton] always talks about due diligence," Moore explains, "and making sure that everything is the best that you can do. And you don't leave any stones unturned because that sentence [for a player's evaluation] could be the very sentence that tells a player 'thanks for trying out,' or it could be 'welcome aboard.' So imagine the weight that's on a sentence."
Coach Moore's drive to be a difference-maker in these young players' lives extends off the field to a much grander role. He wants to be there to start the foundation for hundreds of college athletes he's had a role in directly molding. But he also wants to be there to help figure out which NFL prospects -- not just the ones coming from his program -- have the ability to carry that momentum into a professional career. That kind of pressure to change lives isn't for everybody.  
You have to remember, though. There's something different in the water when it comes to Florida Football. That extends to the coaches too.