The first-ever Rams Scouting Apprenticeship began in March of 2020. The Rams hand-selected ten people of color, including two women. This series will cover each of the ten apprentices. This week, meet Michael Young, former undrafted free agent for the Arizona Cardinals.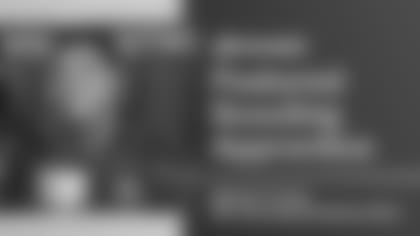 How you are labeled in the NFL matters. Some people are labeled as a head coach. Others are labeled as a franchise quarterback or a shutdown corner.
And how you are labeled is instrumental for people like Michael Young, who was once labeled as an undrafted free agent.
Young is currently one of the ten Rams Scouting Apprentices. He hung up his cleats, playing for the Arizona Cardinals, back in 2004. And since then, he's been working on designing his new label as an NFL scout.
"My goal is this. I no longer want to be known or seen as Mike, the former player who wants to scout, within the scouting community. I will be known as Mike, the former player, who works for the 'insert' team."
Young says he has been on a seven-year journey to become an NFL Scout and he's dedicating all his time, energy and resources into this opportunity with the Rams.
"I really want the opportunity when it presents itself in 2021, to be able to go in and show a team, whether it's the Rams or someone else, that I'm more than capable of doing this job. I just need the chance."
The scouting label never crossed Young's mind until years after his playing career. If you hear him speak, you'll understand why he was hired to be part of the Rams' radio broadcast team, covering games back when the team was still based in St. Louis. He said it was on the sidelines that he noticed the scouts taking notes, and it piqued his interest.
"Once I got a chance to cover the Rams on a more intimate level, I really discovered what scouting was. And I was like, okay, that's something I can transition into forever."
The following season, he started to sketch out his design for his new label. This was a new look for the former player and broadcaster.
"I started to try to grab some contacts and just try to find the way in. I said, okay, well, if I'm going to get into it, I at least need to be able to bring something to the table. So that way, they won't have to catch me up totally."
He enrolled himself into The Scouting Academy, an online platform designed to build a fundamental knowledge of football as it relates to the evaluation of personnel. From there, he got some work at the Senior Bowl and started networking. He connected with a number of scouts, including Brian Hudspeth, National Scout for the Detroit Lions. Hudspeth shared something that resonated with Young:
"It's called ESPN. Experience, Sacrifice, Perseverance and Network. Throughout the seven years I've been getting a lot of experience, have made some sacrifices here and there, try to continue to persevere because I've been told no more than I've been told yes, and just continuing with networking because you just never know who may give you the one opportunity. You have to be ready when you get a chance."
Young may have been labeled as a former player, but now working with Ted Monago, Assistant Director, College Scouting, Young feels like he is runway ready. He's not just learning how to write up players and give analysis, he's getting details on little things like how to properly hold a stopwatch for recording someone's 40 time. "Little nuggets like that."
"I'm learning a lot. So really appreciative of what I have been learning and how all of the mentors, whether they work with you or not, are so fruitful with information to help you become a better scout."
For more on Michael Young and the other apprentices in the Scouting Apprenticeship, clickhere.