The first-ever Rams Scouting Apprenticeship began in March of 2020. The Rams hand-selected ten people of color, including two women. This series will cover each of the ten apprentices. This week meet James Bullock, Director of Compliance at San Jose State University.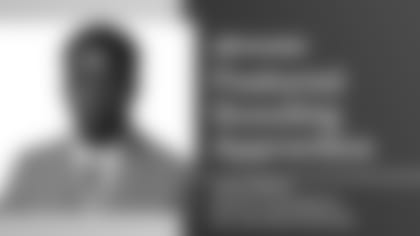 There are goals, and then there are James Bullock goals. 
"It's either a statue or a building named after me," Bullock explains. "That's what I'm striving for. And I'm not stopping until I get it." 
Why does James Bullock want a statue or a building named after him? He said, "As long as I've done enough on this earth to be mentioned in the type of categories that we might need to build a statue for an individual… did a lot for the community, did a lot for men, the sport. If I'm mentioned [in those conversations], I've made it." 
He also wants to work in the NFL. And believes he can achieve all of his goals for this reason. 
"I want to be able to show folks that if you truly believe in what you want," Bullock said, "you work for it, and you keep whatever your religion is, if you keep that in front of you, and if you're diligently seeking that spirituality, then some of your dreams and goals can come to pass, it can happen."
But just as Bullock has "James Bullock" goals, he also realizes there are a lot of people that don't think like him. He has been told he is not setting realistic goals. 
"I've heard, 'You can't do it,'" Bullock said, "'You're a young black male from this and that, but that data is already obstacles against you.' So, my response is, 'yeah, I understand what's against me, but I still have my goals. And I still know who I serve. And the work that I'm putting in for this kingdom and myself.'" 
Bullock went to an HBCU, graduating from Winston-Salem State University in 2017. He was a starting safety and team captain on the team that took home a CIAA championship in 2015. It was the only year he played for the school, but that was enough for him to hang up his cleats and refocus his energy on his new goal. 
"I just really felt like I accomplished what I came to accomplish on the football field," he explained. "Now let me work on my professionalism, and work on my administrative duties. Let me intern and do all the other stuff that can help me, like community service, all that stuff that can help me as a professional. Because [playing] football wasn't it for me."
This wasn't a perfect college experience for Bullock either. In his freshman year at Winston-Salem State, he had 1.3 GPA and ended up getting kicked out of school after being charged with a felony. 
"It was a long process," Bullock said. "A long process." 
He was on probation for about a year, and after being rejected in his re-admission attempt at Winston-Salem State, he attended Forsyth Technical Community College for a year, while he worked on clearing his name. 
"I ended up getting [the felony] expunged." Bullock said. "I had to get a letter from a lawyer. I had to get a letter from the judge. A letter from my probation officers. All that played a part. A letter from my pastor. It wasn't like I was a well-known knucklehead in the city. That wasn't the case. It was that the felony was on my record, and they needed to [know], is he still in this type of life?" 
Those letters and Bullock's work helped him get back to the University. 
"When I finally graduated, I think I had like a 3.1 GPA," Bullock said. "I was just so focused. Different. I wanted to achieve all the goals I set for myself. And that was to play football. I wanted to graduate, and I wanted to get a good job and hopefully, one day, land in the NFL."
Now as one of the ten hand selected Rams Scouting Apprentices, Bullock feels he's on the right path to make his dreams come true. His mentor, Ray Agnew, is the former Director of Pro Scouting for the Rams, and current assistant GM with the Detroit Lions. Bullock said they shared "the Winston-Salem energy," given his mentor was born and raised in Winston-Salem, North Carolina.  
"We were able to connect on things outside of football. He gave me professional advice. Personal advice. He called me anytime day or night. I can call him any time. I mean, it's just it just been a great relationship and I really appreciate that. It was it was more than football."  
And while their relationship has been more than football, Bullock is grateful to be part of the apprenticeship because he's learned he also really enjoys the work involved in NFL scouting.
"You have to really sit there and study the film," Bullock explained. "If you don't truly enjoy it, you may not succeed in it, because it takes a lot of time and patience. I think I have the critical factors needed to be an NFL Scout. I have the passion. I love the game. I study the game. I've always wanted to be around the game. And then on top of that, I want to continue to grow within the game and grow my family around the game." 
If you are one of the "James Bullock non-believers," here's what he has to say about achieving his dream: 
"Don't think you can't accomplish something just because you think it's so big and so much greater than you. You can do it. But you got to put in the work. And I want to be able to tell folks I put in the work." 
For more on James Bullock and the other apprentices in the Scouting Apprenticeship, clickhere.