The first-ever Rams Scouting Apprenticeship began in March of 2020. The Rams hand-selected ten people of color, including two women. The series will cover each of the ten apprentices. This week meet Sherman Wilson, Recruiting Quality Control for University of Memphis football.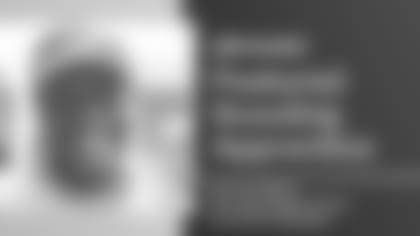 "I made it through my storm
And my test because you were there
To carry me through my mess"
These are lyrics from the song, "Never Would Have Made It," by Marvin Sapp, a song that came out in 2007, the same year scouting apprentice Sherman Wilson and his family were displaced from their home after hurricane Katrina hit New Orleans. His family moved from their house in New Orleans, Louisiana to Pensacola, Florida during his senior year of high school. It's a song he listened to a lot that year. 
"That was a traumatic experience to be uprooted your senior year, and then you look back 10 years… 12 years from then, and you're still climbing that ladder to those goals", Wilson reflected.
His goal back then was to play football, but once Katrina hit, he gave up playing to help his family. They were living in a hotel, so he got a job at a couple of fast-food restaurants while he finished school.
"My dad worked for NOPD (New Orleans Police Department). He had to actually stay in New Orleans and go through everything. And he [had to] take hepatitis shots and stuff like that, because he had to go in the water and recover people. And he would drive three hours, it was a three-hour drive to Pensacola, just to see us and then go back to work the next day. He instilled in me what hard work is. And he instilled in me what faith is. And it was that from youth."
And so that is what Wilson did. He worked. He has worked two jobs for the majority of his adult life. He worked two jobs when he was working at Southern University and he's now working two jobs while at Memphis. "Because at the end of the day, if you really want something, you're going to do what you got to do to make sure it happens."
"I would have lost my mind
But you were right there"
"I mean, what else do you do? You don't give up. You just keep moving. Just keep running the race. The things that you deal with creates patience, which patience creates endurance, to be able to run that race."
Wilson currently works for the University of Memphis as the Recruiting Quality Control head where he breaks down film and evaluates football talent. He is also one of the 10 hand-selected scouting apprentices for the Rams. Wilson works specifically with JW Jordan, Director of Draft Management for the Rams.
"The end goal is to be an NFL General Manager. So, whatever leads me in that direction. I'm open to it." Wilson says. Wilson is also working on getting his doctorate. 
"I am stronger, I am stronger
I am wiser, now I'm better"
"Right now, getting the highest level in my career field is the NFL. And the highest level in my field of education is a doctorate and so I just want to stockpile every kind of knowledge you can have in the profession." 
"You hear kids all the time talk about, 'Oh, I want to get to the NFL.' Do you really understand what it takes? Like you can't come to practice late, or you can't miss a workout and talk about this is what you want."
His journey might seem exhausting to anyone else. Wilson went from dreams of putting on pads to working two fast food jobs while in high school, to finishing college, getting his masters, and now focusing on his doctorate degree while recruiting for the University of Memphis. But he says his success "happened so fast." 
"Three years ago, I was a high school coach. And this time last year, I was at a HBCU, which I still love to this day, but I was at a lower-level FCS school. And now I'm actually at a Group of Five FBS program that wins and puts guys into the NFL."
"When I look back over all you brought me through
I can see that you were the one I held on to"
"You know, like I can say, I'm in the NFL, even if it's for five minutes, I can say I am in the NFL" 
For more on Sherman Wilson and the other apprentices in the Scouting Apprenticeship, clickhere.