The first-ever Rams Scouting Apprenticeship began in March of 2020. The Rams hand-selected ten people of color, including two women. This series will cover each of the ten apprentices. This week meet Jordan Brown, former captain and strong safety at Truman State University.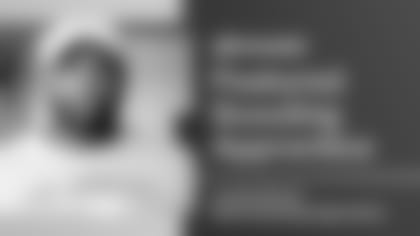 In March of 2020, work for Jordan Brown fell apart. He went from having a full-time job as an Operations Coordinator at ProCamps, an organization that manages and operates sports camps for professional athletes and coaches, to: "Boom, COVID hits."  
His company laid off 90% of its employees, Brown being one of them.  
"I've had every reason to kind of just give up and just say, you know, I might as well just go find me a regular nine to five." 
This is a familiar story for many who have been impacted by the Covid-19 pandemic. For Brown, this was almost the beginning of the end in football for the former college safety. Since graduating in 2018, Brown has spent the last three years working seasonal jobs and part-time internships to try and stay in football. So when he landed a full-time job working directly with professional athletes, he thought "life was good." But that was short-lived.   
"I've had every excuse and reason to kind of give up on all of this and kind of just take the easy way out," Brown said. The instability of his life in football was getting to him. However, he says giving up was ultimately, not an option. "It's just not who I am."
Brown is a 24-year-old, former four-year starter at Truman State University. He is a former operations intern with the Indianapolis Colts. He is a former player personnel assistant at Miami University at Ohio. And he is now one of the hand-selected scouting apprentices for the Los Angeles Rams. Since he started, he's made this his primary focus. 
"This gave me the chance to focus on football." Brown says he's taking this opportunity very seriously. "I wake up every morning. I go to the gym at six. Between six and six-thirty, I work out. I come home, shower, and I watch film."
His self-driven schedule has helped Brown lose up to 25 pounds and gain a ton of knowledge in NFL scouting.  
"Fortunately, with this apprenticeship, it was just kind of a great opportunity. You know, even though so many things have gone wrong, everything happens for a reason. And this was just a great opportunity where I was kind of able to stay true to what I love and stay in the game. So that's where I'm at now."
His mentor with the Rams is James Gladstone, Director of Scouting Strategy, and Brown says they talk almost every day. "He is great. I've learned a lot from him. I feel like it's one of those things where I'm not being paid or anything like that. So, it's not like he's just going to keep force feeding me the work. But stuff that will take us a month to do, I'll finish in two to three days. And I'll ask for more, and he'll give me more."
His persistence is paying off.
"I'm certainly a lot further now than I was two years ago when I first started this. I want to take this journey as far as I can take. I'm trying to make sure that I squeeze, squeeze, squeeze the droplets out of whatever."