Defensive tackle Michael Brockers was general manager Les Snead's first draft pick with the Rams back in 2012 and has provided leadership and versatility to the Los Angeles' defensive line ever since. He has especially effective against the run, and fellow Rams defensive lineman Aaron Donald even called him one of the best run-stoppers in the NFL and a big part of what they're able to do with their run defense.
Eight years later, Brockers is scheduled to become a free agent when the new league year begins on March 18, his three-year contract extension signed in 2016 having officially run its course.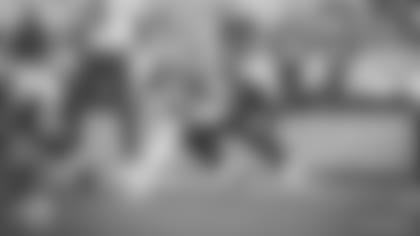 Speaking during the week leading to the season finale against the Cardinals, Brockers said that he would like to remain a Ram but also knows nothing is guaranteed in this league.
"In my mind, (being) biased, I would love to be here," Brockers said. "I've played the position, I'm comfortable here, comfortable with the coaching staff, comfortable with the standards we uphold here, but I understand it's a business as well. Understanding that aspect, you never know."
Should Brockers not re-sign, the Rams could look internally or use the draft or free agency to find his replacement.
One internal solution would be re-signing defensive end Morgan Fox, who is scheduled to become a restricted free agent. He produced 12 tackles and two sacks while playing in all 16 games and had a reserve role in the defensive line rotation for the majority of his third season, but also got three starts.
When Fox saw time on the field, he would usually line up as a five-technique defensive lineman. In a 3-4 defense, the base scheme which defensive coordinator Wade Phillips employs, that defensive lineman lines up directly across from the offensive tackle – which is what Brockers also often did.
If Los Angeles opts not to re-sign Fox, the draft or free agency route would likely come into play.
Given the 29-year-old Brockers has shown no signs of slowing down – each of his last three seasons have all been his most productive in eight-year career in terms of total tackles – and the value his positional versatility creates for the Rams' defense, though, a potential return to the Rams would seem to be favorable for both sides. Currently, the only hurdle he has to clear prior to his pending free agency is healing a sprained left ankle sustained in the season finale.