Go figure that the shortest offseason in franchise history is followed by the longest gap between games one and two.
Goodness, it's felt like an eternity since that disappointing outcome against Buffalo.
Not that it helped (much), but the Rams were not alone in defeat – nine playoff teams from last season have started 0-1, including both Super Bowl participants for the first time since 1999.
Only the Seahawks were victorious in the NFC West.
So call last Thursday whatever you like: a mulligan, a wakeup call, or just one chapter with 16 others still to follow. 
While the rest of the NFL world overreacts to the first wave of results, let's be patient enough to wait for the Rams response as they play host to the Atlanta Falcons.
One of the refrains that crossed my mind this week was: "Settle into the struggle."
This year is going to be hard. We knew it in advance, but now it's real.
Target on your back. First place schedule. AFC West crossover. Drawing the preseason favorite Buffalo as your 17th game.
Every aspect of 2022 figured to be more challenging than 2021.
And unfortunately, that's already proving to be the case with respect to the injury report, as well.
The bug is biting. The young season is already throwing haymakers.
By no means is this too much for the Rams to overcome. But they better settle into the struggle and be ready to punch back.
But this highlight was even more top of mind for the last few days.
Cordarrelle Patterson is coming off a career-high rushing performance for the Falcons. But when he was with the Bears, he was the focal point of Lewis's "welcome to the NFL moment."
I'll venture a guess those two will collide a few more times on Sunday. And now more than ever, the Rams need Lewis to be a weekly presence on their edge.
Offensive, And Not In A Good Way
The prevailing concern from the opener has to be the underperformance of a now-depleted offensive line.
Matthew Stafford was peppered all night, taking seven sacks – more than any quarterback in the Sean McVay era.
And the Bills didn't have to blitz once to get to him.
Equally concerning, the revamped rushing attack we anticipated fell flat, with the Rams running for fewer than three yards per carry against Buffalo – a defense that played with two high safeties throughout.
There were no such problems for Atlanta's offensive line against the New Orleans Saints. The Falcons paved the way for 3.21 yards rushing before first contact, didn't surrender a sack, and allowed pressure on only 10.8 percent of drop backs, leading the NFL in all those categories in an opening loss, per The Athletic.
Hold On, We're Going Home
Drake London is back in Los Angeles, just two weeks into his professional career.
The Moorpark High School and USC product is only 21-years-old, was drafted eighth overall by the Falcons, and persevered not only through an ankle injury that truncated his Trojan tenure, but also another blow to his knee in Atlanta's preseason opener.
London – who played some hoops for the Trojans before focusing on football – put up a team-best five receptions for 74 yards last week in his NFL debut.
He and last year's first-round selection, tight end Kyle Pitts, should provide ample opportunity for Jalen Ramsey to shake back.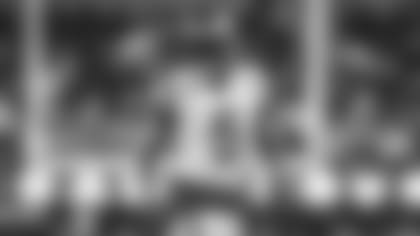 Whereas Josh Allen is the face of the franchise in Buffalo, Marcus Mariota is the bridge to the next franchise quarterback in Atlanta – be it rookie Desmond Ridder, a 2023 draft pick, or a future acquisition.
Which is not to say Mariota isn't a nice fit for these 2022 Falcons – because he looks to be just that.
With enough arm talent, mobility, and savvy to present a nightmarish number of looks and distribute targets to ascending skill players like Pitts and London, Mariota is a clear and present danger in Week 2.
The Falcons are also similar to the Bills in their ability to tamp down explosive pass plays – only Buffalo allowed fewer yards and deep throws in 2021.
What will be interesting to see is whether or not they borrow the Bills blueprint defensively – rushing four, playing zone with seven behind it, staying on top of routes by Cooper Kupp and Allen Robinson II.
Last week against the Saints, defensive coordinator Dean Pees blitzed on roughly a third of his pass rushes. Stafford and the Rams would welcome that aggressiveness this weekend.
The Rams ran 67 offensive plays last Thursday (but 14 of those came deep in the fourth quarter on a long drive with the Bills in firm command and playing prevent).
The snap counts for non-starters in that loss?
That's it. And albeit in limited opportunity, there weren't any noteworthy plays from that group that commanded more reps. Nonetheless, McVay has acknowledged a need to deploy more of his weaponry.
Akers' share of the pie dominated conversation over the past several days, and his readiness for the Falcons is worth watching closely.
But I believe Hopkins, in particular, might be able to give the Rams a unique element.
As we discussed this week on the Coach McVay Show and Rams Revealed, Los Angeles is only carrying two tight ends on the active roster – it's important they both contribute.
Now to the matchup of the week, where I know I'm not alone in doubling down on the prediction that Allen Robinson II is going to go off in Horns.
The two targets he saw in his Rams debut were the fewest of his career. We'll look back at that disconnect with astonishment in the coming days, months, and years.
But what's fascinating about his second draw is that A.J. Terrell is one of the best young corners in the game. Atlanta's first-round pick from 2020 allowed just three yards per target in 2021, according to Pro Football Focus – the lowest total for any qualifying corner they've measured since 2008!
Playing almost exclusively outside, Terrell should line up over Robinson plenty, as he did last week against Saints receiver Mike Thomas, who hauled in two late, contested touchdowns to lift New Orleans to a comeback win.
And lastly, according to NFL Research, Aaron Donald is on the verge of joining Hall of Famer John Randle as the only members of the 100-plus sacks club to have played primarily as a defensive tackle (sacks were first tracked as an individual statistic in 1982).
Donald's 99th regular season takedown came last week against Allen and the Bills, one of just three pressures the Rams' rush mustered all game.
It's only a matter of if, not when, Donald gets No. 100. Of more urgent concern this weekend is how else the Rams can knock Mariota off schedule while pinning him in the pocket.
Sunday at SoFi Stadium can't get here soon enough.