Now that the Rams' 2022 schedule has been officially announced, theRams.com ranks the top five games for Los Angeles this upcoming season: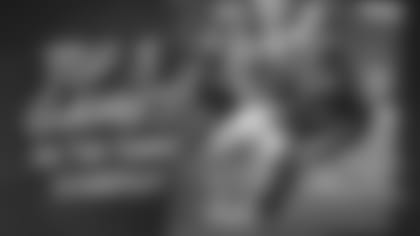 5) Week 15 at Packers, Dec. 19 (5:15 p.m. PT, ESPN/ABC)
Some Rams fans are probably thinking: Again?
Yes, for the second-straight season, the Rams are headed to Green Bay to take on the Packers. Though after visiting in late November last year, this time around they'll be pulling up to Lambeau Field in late December.
Quarterback and reigning NFL MVP Aaron Rodgers returns after signing a four-year contract extension this offseason, but he'll be working on building a rapport with a new top target after watching Adams get traded to the Raiders in March.
Including the 2021 Divisional Round matchup, this will be the Rams' third trip to Lambeau Field in less than two years.
The somewhat new-look Raiders come to L.A., led by first-year head coach and former Patriots offensive coordinator Josh McDaniels. Las Vegas made big waves this offseason by acquiring wide receiver Davante Adams in a trade with the Packers, reuniting him with his college quarterback Derek Carr.
Add in running back Josh Jacobs and tight end Darren Waller, and the Raiders' offense should provide a great late-season challenge for the Rams' defense.
3) Week 9 at Buccaneers, Nov. 6 (1:25 p.m. PT, CBS)
This game sure looks different now than did it a few months ago, no? For a while – well, about a month, to be exact – it looked like the Rams' Divisional Round rematch against the Bucs would be without Tampa Bay quarterback Tom Brady, who retired in late January, then changed his mind and un-retired six weeks later.
The Bucs bring back Brady, running back Leonard Fournette and wide receivers Mike Evans and Chris Godwin, but moved on from wide receiver Antonio Brown and are still awaiting word from tight end Rob Gronkowski on Grownkowski's return this upcoming season. A rematch and the return of Brady alone, though, should generate plenty of interest in this midseason matchup.
Tampa also allowed the fifth-fewest points per game last season, which should make for a nice mid-season evaluation of L.A.'s offense.
The Rams open in primetime for the third-straight year, and they'll do it against another team widely-regarded by experts as a Super Bowl contender this season in the Bills for this year's NFL Kickoff game.
SoFi Stadium will play host to two of the top 10 teams in total yards of offense and scoring offense last season, not to mention two of the league's top passers in Los Angeles quarterback Matthew Stafford and Buffalo quarterback Josh Allen. The Bills also return most of the key pieces to their defense that allowed the fewest yards and points per game in the NFL last season – while adding former Rams outside linebacker Von Miller to their pass rush – so it should be a great early test for the Rams' offense.