In our final installment of this series, we're set to look at veterans who could be poised for the best year of their careers.
First, we'll define "veteran" as any player drafted (or entering the league) prior to 2018, having already examined that particular class, as well as all the other Rams still on rookie contracts. By my count, there are 12 such veterans on the training camp roster as they head to Irvine next week.
A second thing to note would be a break in format – in part because I wanted to write about each one of those players, but mostly because I loathe to choose between them.
So as you'll see, I've organized the Rams veterans into three categories, based on some similarities I see in their accomplishments to date and their prospects to have a breakout 2022.
I'm sure each of these players expects to have a career year, and I wouldn't put it past any of them.
However, Donald and Wagner are already Hall of Fame locks and Kupp comes off arguably the greatest receiving season in NFL history. So in deference to their resumes, predicting bigger or better from that trio would be unreasonable.
Hill is in this category for a different reason. While he doesn't have the All-Pro honors that the others boast, he's already overachieved for an undrafted, twice-waived corner. His best seasons came in Los Angeles, and a return to the Rams could be just what the soon-to-be 31-year-old needs to finish his career on a high note – maybe even his highest. So if you're bold enough to predict a four-touchdown season from Hill (surpassing the three he scored in the closing stretch of 2020), go for it!
In this next category, let's jump in the time machine and fast forward to January 2023. We probably would not be shocked to learn that any – or all – of these individuals just delivered their most complete season. That seems well within reach given their age, potential, and presumed role.
For Dixon, he must first hold off college free agent Cameron Dicker to secure the punting job. If he can, there's no reason why his age-29 season couldn't be a breakout campaign. Good offense, great home stadium, some of the best punt coverage potential in the NFL led by special teams coordinator Joe DeCamillis – it all adds up.
I thought 2021 was Havenstein's best yet; Pro Football Focus would argue 2018 was better. Let's agree both were outstanding. As the Rams pass the baton from Andrew Whitworth to Joe Noteboom at left tackle, there's great comfort having a proven bookend down the line in Havenstein. At age 30, in his second year with Matthew Stafford commanding his huddle, I like Havenstein's chances to finally receive the accolades and recognition he's earned – but missed out on – in prior seasons.
Much of the same could be said of Higbee. He'll be hard-pressed to orchestrate a better stretch than he enjoyed at the conclusion of 2019. Nonetheless, he's a clear No. 1 tight end in an offense that lives in 11-personnel.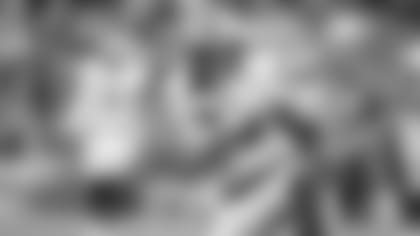 Despite the late glimpses of Brycen Hopkins and Kendall Blanton we saw during the Super Bowl run, Higbee will lead the tight end room in targets so long as he's healthy. Is a career-best receiving line of 70-800-6 feasible over the course of a 17-game schedule with Stafford at the controls? For sure.
Flipping to the defense, A'Shawn Robinson was phenomenal in 2021, and was particularly unsung (though not in this space) during the playoffs. Without Sebastian Joseph-Day, the Rams are counting on Robinson to carry that momentum forward. Still just 27 years of age, the former Top-50 pick would be a good bet to breakout. Like Havenstein, he's on the verge of free agency, as well.
And rounding out this category is Floyd, who very well could have been placed in the "unfair to expect more" group. After all, his two best years as a pro have been his two most recent with the Rams. 24 sacks across those seasons, including playoffs; a durable force in the run game; a well-deserved contract extension. Los Angeles has been great to Floyd, and vice versa. It will be interesting to see what the Rams can generate on the opposite edge in 2022. For Floyd to continue to thrive, offenses must be discouraged from shifting protections his way (thankfully, Donald still exists).
Ramsey's now a three-time First-Team All-Pro and he was Pro Football Focus's top graded corner last season, matching his career high with four interceptions. So perhaps I'm guilty of expecting too much of Ramsey, despite carving out that very specific category above for Rams of his caliber. But I firmly believe his best year is still ahead. The fact that some anonymous AFC executive no longer thinks he's capable of it makes me even more confident.
What's more, as I survey this Rams roster, for them to repeat as division, conference, and/or Super Bowl champions, Ramsey putting together a career year is my most important ingredient. There's uncertainty at the other corner spot, after Darious Williams signed with Jacksonville. And while you peruse this summer's quarterback rankings, take note of how many of the elite signal-callers the Rams are going to face in 2022 (virtually all of them).
It's a much more straightforward case to bet on Allen Robinson II to thrive.
Maybe he won't lead the NFL in touchdowns (or will he?) like in 2015, but for all the reasons we've discussed this offseason, he's never been in friendlier circumstances. McVay's Rams have not had a target with his measurables and track record, and Robinson's not been in an offense like this with a quarterback of this caliber.
And speaking of Stafford, he's my final veteran pick to click.
After one of the most prolific efforts in franchise history a year ago, even Stafford is a bit incredulous looking back, when it comes to how new he was to McVay's offense.
"It's just so small in comparison to what I know and understand now," Stafford offered in an episode of Behind the Grind, comparing his grasp of the system 12 months ago. "It gives me great comfort in the fact that we can go above and beyond what we did last year."
Even without those assurances, I'd have said much of the same. Robinson should help; healthy Akers will, too; perhaps OBJ hasn't caught his final touchdown toss from Stafford. But most importantly, the plane that he and McVay got to in the postseason was different. It felt like a breakthrough.
The head coach schemed and Stafford performed as if the quarterback didn't have to make every play for the Rams to advance. Then he seemingly did make every play when he needed to in crunch time in order for the Rams to achieve their ultimate goal.
That willingness to go 13-of-17 (a season-low in attempts) while picking apart the Cardinals combined with the soul-snatching ability to flip a switch and capture victory with game-winning drives at Tampa Bay and versus Cincinnati felt like the ideal blend the Rams had been honing in on all season. It bodes extremely well for Year Two of the McVay-Stafford partnership, one that I expect to be his best as a pro and should have him in the MVP conversation yet again.
Thanks for reading throughout the summer. Glad the opportunity to "run it forward" is finally within sight. Here's hoping for career years for these veterans, and all the 2022 Los Angeles Rams.