IRVINE, Calif. – Wide receiver Tutu Atwell continued to build on his string of strong training camp practices this week, and quarterback Matthew Stafford made the most of his limited workload during Thursday's open practice at 2022 Rams Training Camp presented by UNIFY Financial Credit Union.
Here are 10 observations from the session: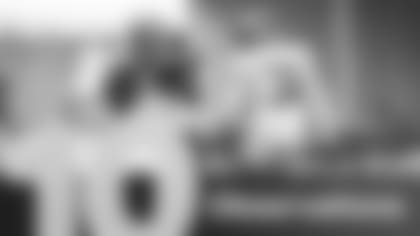 1) Stafford gets more work in: As head coach Sean McVay expected and said Wednesday, Stafford threw during individual drills Thursday and also threw a few passes in team drills before being shut down for the rest of practice.
2) Deep to Atwell (twice): Atwell continued a good week of practice Thursday, hauling in a pair of deep touchdown passes. The first was roughly a 50-yarder from Stafford during a 7-on-7, the second a roughly 50-yard from Wolford as well during 11-on-11.
3) Another pick for Durant: Picking up where he left off late last week, rookie defensive back Cobie Durant had yet another takeaway on Thursday, intercepting a Bryce Perkins pass intended for Atwell on the sideline.
4) Jacob Harris sidelined: McVay said after Thursday's practice that the second-year wide receiver sustained "a little groin strain" and is expected to miss a couple weeks.
5) Rest day for Kupp: McVay said they ended Kupp's day at the same time as they ended Stafford's, effectively giving the veteran wide receiver a rest day for team drills after he went through individual work. That said, Kupp still gave the crowd a couple catches to cheer about, including a catch on a deep ball from Stafford during individual drills that drew lots of "ooohs."
6) More work for Wolford: Backup quarterback John Wolford still got a healthy amount of work after Stafford was shut down, highlighted by a touchdown pass to tight end Tyler Higbee during 7-on-7 drills and connecting with running back Darrell Henderson Jr. on a screen pass for a 25-yard touchdown.
7) Gaining on him: Defensive lineman Greg Gaines made his presence felt Thursday, teaming up with Donald for a "sack" against Bryce Perkins early on in 11-on-11 and later notching two more. The quotation marks are used because the quarterbacks are wearing red, non-contact jerseys, so they can't be taken down like in a normal game, but the play was blown dead given Gaines (and Donald's, in the instance of the first sack) proximity to the quarterback each time.
8) Operating in a tight space: Wide receiver Ben Skowronek somehow managed to hang on to the ball after making a competitive catch in traffic with three defenders around him.
9) Almost: Cornerback David Long Jr. nearly made a leaping interception near the sideline in 11-on-11 drills, almost intercepting a pass Wolford threw toward the sideline intended for Atwell.
10) Nice recovery: During individual drills, Skowronek momentarily stumbled out of his break, but regained his footing in time to make a nice one-handed grab on a pass from Stafford.