HOLLYWOOD, Calif. – Rams general manager Les Snead and head coach Sean McVay met with local media at the Rocket Mortgage Draft House to recap the final day of the 2022 NFL Draft as well as the Rams' entire draft class and re-acquiring cornerback Troy Hill in a trade with the Browns.
Here are three key takeaways from that conversation: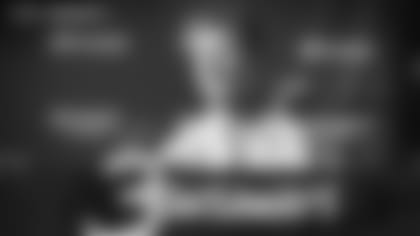 Defensive back was a strategic target
Of the Rams' eight selections in this year's draft, four were defensive backs. Add in the trade for cornerback Troy Hill, and collectively they added five to their roster.
Snead indicated addressing the defensive back room was a goal coming into this draft.
"DB was definitely something we were going to strategically target," Snead said. "There was a moment where players we liked were still on the board, and let's double-down, triple-down."
Ultimately, the Rams were able to bring in players with different skillsets that will create competition and depth within the group, according to Snead.
Talks with the Browns about re-acquiring Hill accelerated during the draft
The Rams had been having conversations with the Browns about Hill during the draft. Once the Browns took a cornerback earlier in it, trading for him became more of a possibility.
The anticipated comp picks in 2023 also played a role in making the deal happen.
"(Browns general manager) Andrew (Berry) and I were talking about it and we were discussing ways to get it done, and at the end of the day, (it was) going to the comps," Snead said. "Because we probably have seven picks next year and expect to get four comps. Now, we can't trade comps yet, that's just an expectation, it will probably happen. But it does allow you to go, 'OK, we've got 11 picks,' and the Browns, they had a lot of picks on the second day, so we said, 'You know what, it's probably best that we do something – better for both of us – that we do something in the future."
Returning to the small-school well
Last year, the Rams took outside linebacker Chris Garrett from Division II Concordia St. Paul. This year, they went to the FCS to defensive back Cobie Durant from South Carolina State and later outside linebacker Daniel Hardy from Montana State.
When it comes to the process of identifying and drafting those players, Snead said the team is normally aware of them in the fall, then is eager to see them in an all-star game after the season. In the case of Durant, he played in the East-West Shrine Bowl and also had strong tape from his performance against Clemson. From there, a combine or pro-day visit helps determine if they "check the boxes" that they may be more of a Power Five conference athlete than initially thought when they were being recruited by schools.
"The more they check the boxes, then you keep going back, you keep going, 'OK, we better take another look, and take another look, and take another look," Snead said. "And Decobie's a Ram."