IRVINE, Calif. – Back Together Saturday and Season Ticket Member Appreciation Day treated fans to several highlight-worthy plays during the second open practice of 2022 Rams Training Camp presented by UNIFY Financial Credit Union.
Here are 10 observations from the session: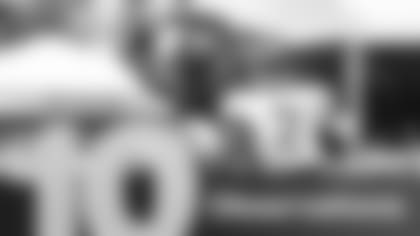 1) Another packed house: It didn't take long for every set of bleachers to fill, with seats becoming full and fans hovering around the metal barrier surrounding the practice fields 30 minutes before it started.
2) Wide receiver Van Jefferson does not practice: "We're figuring that out right now, working through that," said Rams head coach Sean McVay, who declined
3) A sign of chemistry to come: During individual drills, quarterback Matthew Stafford threw a perfect deep ball down the sideline to wide receiver Allen Robinson II, drawing "ooohs" from the crowd. They would connect at other levels of the field later on in practice.
4) Threading the needle: In one of the most impressive plays of the day, Stafford during redzone drills threw a dart between two defenders to connect with Robinson for a touchdown.
5) If it's up, then it's Kupp: Wide receiver Cooper Kupp high-pointing a Stafford pass and coming down with it near the sideline drew the loudest cheers of the day from the crowd.
6) Scoota snags one: Cornerback Robert Rochell corralled a deep ball by quarterback John Wolford during team drills for his first interception of camp.
7) Diving catch: Robinson also made an impressive diving grab near the sideline, then spun upfield, during team drills.
8) Deflected by Donald: Defensive lineman Aaron Donald knocked down back-to-back passes at the line of scrimmage at the start of team drills.
9) Almost: Safety Taylor Rapp nearly made a leaping interception on a Wolford pass over the middle.
10) Derion Kendrick makes a play: The rookie defensive back broke up a would-be sideline catch for tight end Tyler Higbee during team drills.