Following each practice, Quotes and Notes will bring you what was said, who said it, and what it means for your Los Angeles Rams.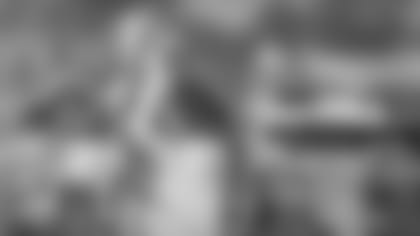 "Looks like Todd — looks like the explosive, great back that we are accustomed to seeing."
-HC SEAN McVAY
According to head coach Sean McVay, running back Todd Gurley will play on Saturday for the first time since Week 15 against the Eagles.
Gurley sitting out the two weeks and nursing his left knee was the first significant time the back has missed in his career. Gurley could be seen alternating taking handoffs with running back C.J. Anderson during the portion of Thursday's practice open to media.
On Wednesday, McVay said that'll be the case on Saturday — and Anderson was on the same page, saying, "The whole goal is when '30' is out, we don't want to miss a beat."
"[A]lso you bring in some players that have a lot of experience that I think their perspective, from a player's standpoint, is very helpful. "
-HC SEAN McVAY
McVay said last year's playoff experience is beneficial in preparing for this season's go around, but also mentioned a few players who have joined the Rams in 2018 with playoff experience. The coach specifically mentioned cornerbacks Sam Shields and Aqib Talib, who have played in a combined 19 playoff games and each won a Super Bowl.
Additionally, wide receiver Brandin Cooks has made three postseason appearances, cornerback Marcus Peters' has played in four postseason games, Anderson in three, and left tackle Andrew Whitworth in seven.
"We've got to play good football down in, down out — stopping the run will be one of the things that dictates that."
-HC SEAN McVAY
The Rams defense has struggled to stop the run this season, and it's a trend the team is looking to end come the Divisional round against the league's top rusher in running back Ezekiel Elliott.
Elliott took 21 carries for 85 yards and a touchdown last season against the Rams, but that was a very different looking defense. The 2018 Rams have surrendered at least 100 yards rushing in 11 games. The defense let up at least 140 yards on five occasions.
Swarming Elliott seems to be one part of the game plan to slow Elliott — "11 hats to the ball," Peters said of facing 'Zeke' this week. "You got to have 11 hats to the ball all night."
"Last year we felt like we were the better team, we just didn't play up to our standards and we made some mistakes."
-DT MICHAEL BROCKERS
Defensive tackle Michael Brockers said the Rams' week off provided a chance to focus on eliminating any mistakes that could be made on Saturday night against the Cowboys.
In last season's Wild Card game against the Falcons, the Los Angeles special teams umit made two critical mistakes. Former Rams return man Pharoh Cooper was reluctant to call "poison" on a first-quarter punt and the ball ricocheted off of safety Blake Countess and into the possession of Falcons. Just a few drives later, Cooper fumbled a kickoff late in the first quarter — also recovered by the Falcons.
The botched special teams plays turned into 10 first-quarter points for the Falcons. On Thursday, McVay said mistakes happen weekly, but taking care of the football has been a point of emphasis as usual in preparation for the Cowboys.