After each media session, Quotes and Notes will bring you what was said, who said it, and what it means for your Los Angeles Rams. Here's what you should know from Thursday, Aug. 15.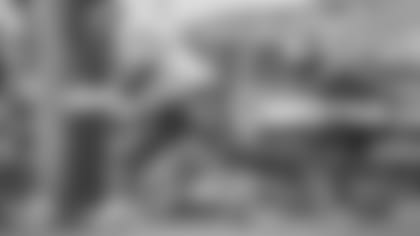 "Just going to go out there to support the guys. Also got some business stuff out there."
– DT Aaron Donald
Donald will be one of a few starters making the trip to Hawaii.
Although he will not play, he still wanted to make the trip to be there for his teammates. 
His presence will be especially beneficial for Sebastian Joseph-Day, Greg Gaines and the other defensive tackles competing for the starting spot beside him which was vacated by departure of Ndamukong Suh this offseason.
"I think you feel good. It's always a tough dynamic."
– HC Sean McVay
With the majority of the starters not traveling for this week's preseason game against the Cowboys in Hawaii, McVay was asked how he feels about where the starters are at this point in training camp. 
McVay cited the work done by that group in joint practices with the Chargers and Raiders as the main reason why. 
The Rams have ramped up the intensity in practice this week, and the challenge, according to McVay, is maintaining that edge so that it peaks come Weak 1 against Carolina.
"Those are three guys that have definitely made a name for themselves and we're closely looking at to see what kind of role they shape and carve out for themselves come regular season."
– HC Sean McVay
Sebastian Joseph-Day, Greg Gaines and Tanzel Smart are all competing for the second starting defensive tackle job alongside Aaron Donald, and McVay has been pleased with what he's seen from each player thus far. 
Joseph-Day has been a "bright spot" for the Rams because of how he's picked up where he left off from training camp, according to McVay, while the rookie Gaines is becoming more confident and comfortable within the system. McVay said Smart's ability to play both the three-technique and nose tackle, plus his dependability, makes him very valuable to Los Angeles. 
While McVay said that competition is "really sorting itself out," it remains an ongoing evaluation.