After each media session, Quotes and Notes will bring you what was said, who said it, and what it means for your Los Angeles Rams. Here's what you should know from Tuesday, Aug. 27.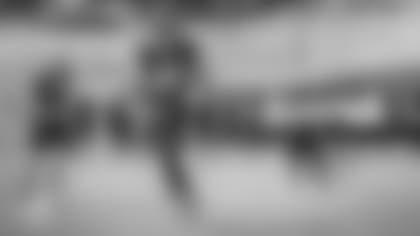 "It's as close to live as we can get without really tackling, especially against our own one defense. It's good."
– QB Jared Goff
With Rams head coach Sean McVay choosing to rest the majority of L.A.'s starters like Goff for the second straight preseason, joint practices against the Chargers and Raiders and intra-squad scrimmages are serving as their tune-up before the regular season.  
The team did a similar scrimmage last week, only Tuesday's scrimmage was more controlled with competition created situationally, according to McVay.
Goff said the goal is to make these scrimmages against the defense as difficult as possible so that the regular season games are easier.
"He's a guy that – unless something changes over the next 48 hours – is not going to play in this game."
– HC Sean McVay
DT Sebastian Joseph-Day will not play in Thursday's preseason finale at Houston because of how well he's performed to this point in the preseason. 
McVay said Joseph-Day has had a good camp and already established himself as someone who will be a key contributor to the defense. 
The former 2018 sixth-round pick is slated to start at nose tackle based on the team's unofficial depth chart.
"I trust and have full confidence that there's not going to be any – people talk about a 'Super Bowl hangover' or anything like that."
– HC Sean McVay
History has not been kind to the losing team in the Super Bowl in the subsequent year, but McVay doesn't believe his team will be part of that trend end in 2019. 
In the 16-game era, teams defeated in the Super Bowl have averaged 9.57 wins in the following season (since 1978; excluding the 1982 lockout-shortened season).13 of those 40 NFL runners-up failed to qualify for the postseason the following year.
One thing working in Los Angeles' favor to avoid that fate is the return of several starters from last year's squad, something McVay mentioned last week.