After each media session, Quotes and Notes will bring you what was said, who said it, and what it means for your Los Angeles Rams. Here's what you should know from Saturday, Aug. 31.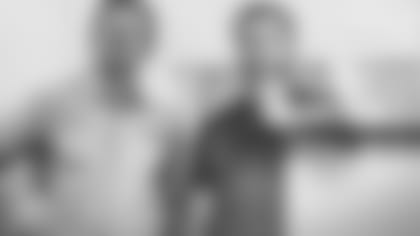 "We did a lot of moves last year and a lot of those players are still here."
– GM Les Snead
A common thread throughout the Rams' initial 53-man roster was continuity at several positions, including acquisitions who carried over from the 2018 roster. 
The difference between last year's roster and this year's roster, according to Snead, is the young players who will step in and contribute alongside those experienced players, using DT Sebastian Joseph-Day – inactive for the entire 2018 season but now slated to be the team's starting nose tackle – as an example. 
Overall, Snead said he likes how this roster features a mix of veteran players in the prime with younger players who could contribute at any moment.
"He was a guy that came in, maximized his opportunities."
– HC Sean McVay
LB Natrez Patrick was one of three undrafted free agents to make Los Angeles' preliminary 53-man roster. 
The former Georgia standout began the preseason at inside linebacker until an injury to DL Justin Lawler necessitated a switch to outside linebacker.
Though the Rams are deep at outside linebacker, McVay said special teams coordinator John Fassel has always valued Patrick and Patrick will be a "big-time contributor" for that unit.
"Definitely, we all see that right? You're sitting in the press box and you're going 'Woah, wait, who is (jersey number) 14? Who's this (WR) Nsimba (Webster) kid?"
– GM Les Snead
Another one of the three undrafted free agents to make the initial 53-man roster, WR Nsimba Webster took advantage of his opportunities in the preseason. 
According to Snead, Webster impressed with both his return and coverage skills on special teams. 
That versatility, along with maximizing limited reps, ultimately played a big role in Webster securing a spot on the roster despite the Rams' depth at wide receiver.
"He maximized his chances and again, a lot of these decisions are more a result of other guys kind of earning it, not necessarily one guy not doing what he can to show that he's an NFL-caliber player."
– HC Sean McVay
Seventh-round pick LB Dakota Allen was one of the surprising cuts on Saturday, a decision McVay categorized as similar to others that are part of the "big picture perspective." 
An unspecified injury sidelined Allen for the Rams' entire offseason program, but McVay praised his response with how well he performed in the preseason and what he was able to put on film.
McVay said tough choices like this ultimately come down to numbers – not just the 53-man roster, but the 46 players who will be active on gamedays too – and how players can contribute on special teams.